1884 Election Results Cleveland vs Blaine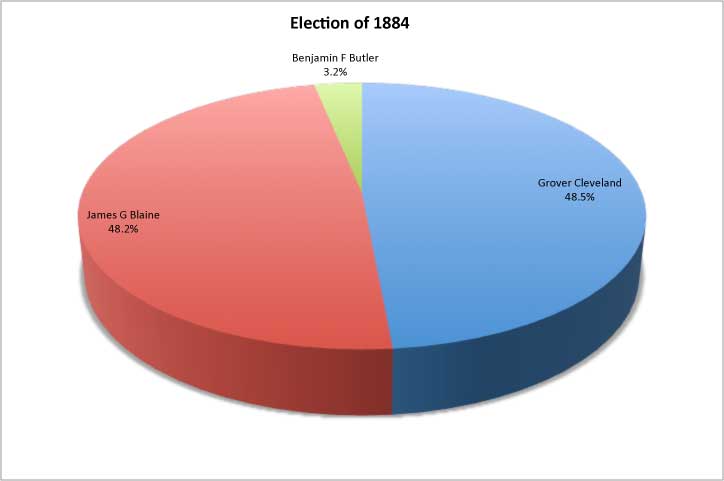 The Democratic convention was held in Chicago in July 1884. Grover Cleveland was the front-runner from the opening of the convention. The only major opposition to Cleveland was from the New York Tammany organization. Cleveland received the nomination on the second ballot with 683 votes. Cleveland's opponent in the election was James Blaine of Maine. President Arthur attempted to receive the Republican nomination, but had little support. He had lost support from some of the party by signing Civil Service Reform after the assasination of President Garfield, while never being a member of the reform wing of the party thus not having support from them. The only individual at the convention who had a chance to receive nomination other than Blaine was General Sherman. He ended speculation that he would run by making what has become known as a Sherman statement: "If nominated, I will not accept, and if elected I will not serve." Blaine won the nomination on the fourth ballot.
There were no major substantive issues that seperated the candidates thus the election turned on the candidates themselves. Blaine was attacked for his close relations with the railroad interests, from which it was claimed that he received financial benefits. Blaine's opponents published what were called the "Mulligan Letters", which proported to show that Blaine received bribes. Cleveland, on the other hand, was attacked for being immoral for his affair before his marriage with Maria Halpin, which produced a son. The Republicans would chant "Ma Ma Where's my Papa". Cleveland was able to defuse the story by telling the truth. Cleveland received the support of many reformers including several leading Republicans. Cleveland won the election in a close vote.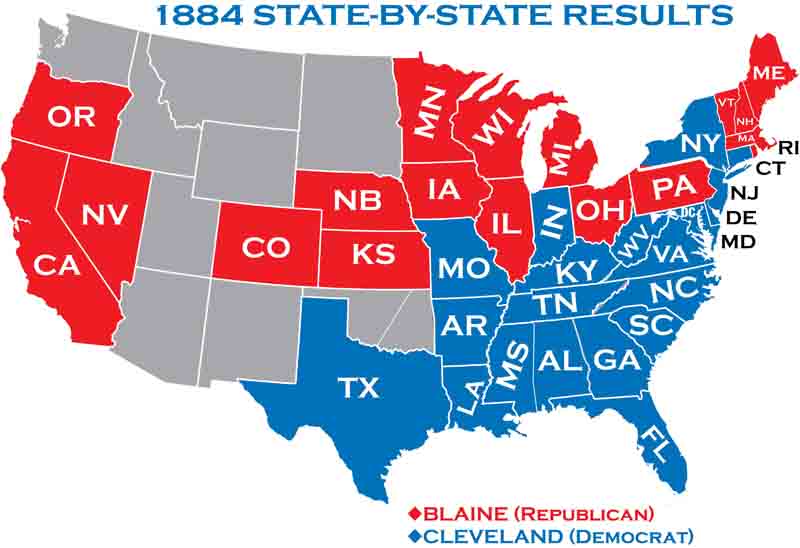 State results in 1884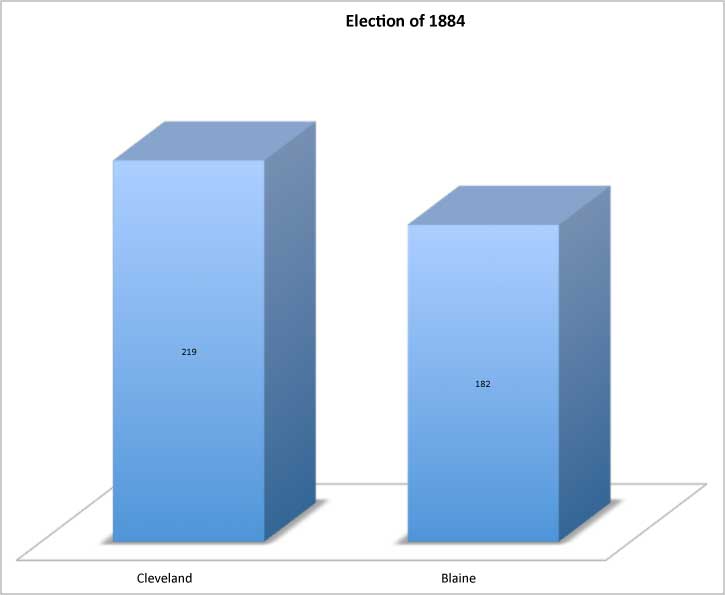 Electoral Results in 1884
| | | | | | | | | | | | | |
| --- | --- | --- | --- | --- | --- | --- | --- | --- | --- | --- | --- | --- |
| Alabama | Grover Cleveland | 92,736 | 60.4 | James Blaine | 59,444 | 38.7 | Benjamin Butler | 762 | 0.5 | John St John | 610 | 0.4 |
| Arkansas | Grover Cleveland | 72,734 | 57.8 | James Blaine | 51,198 | 40.7 | Benjamin Butler | 1,847 | 1.5 | John St John | - | |
| California | Grover Cleveland | 89,288 | 45.3 | James Blaine | 102,369 | 52.0 | Benjamin Butler | 2,037 | 1.0 | John St John | 2,965 | 1.5 |
| Colorado | Grover Cleveland | 27,723 | 41.7 | James Blaine | 36,084 | 54.2 | Benjamin Butler | 1,956 | 2.9 | John St John | 756 | 1.1 |
| Connecticut | Grover Cleveland | 67,167 | 48.9 | James Blaine | 65,879 | 48.0 | Benjamin Butler | 1,682 | 1.2 | John St John | 2,493 | 1.8 |
| Delaware | Grover Cleveland | 16,957 | 56.6 | James Blaine | 12,953 | 43.2 | Benjamin Butler | 10 | | John St John | 64 | 0.2 |
| Florida | Grover Cleveland | 31,769 | 53.0 | James Blaine | 28,031 | 46.7 | Benjamin Butler | - | | John St John | 72 | 0.1 |
| Georgia | Grover Cleveland | 94,667 | 65.9 | James Blaine | 48,603 | 33.8 | Benjamin Butler | 145 | 0.1 | John St John | 195 | 0.1 |
| Illinois | Grover Cleveland | 312,351 | 46.4 | James Blaine | 337,469 | 50.2 | Benjamin Butler | 10,776 | 1.6 | John St John | 12,074 | 1.8 |
| Indiana | Grover Cleveland | 244,989 | 49.8 | James Blaine | 238,466 | 48.5 | Benjamin Butler | 8,194 | 1.7 | John St John | - | |
| Iowa | Grover Cleveland | 177,316 | 45.1 | James Blaine | 197,089 | 50.1 | Benjamin Butler | 16,341 | 4.2 | John St John | 1,499 | 0.4 |
| Kansas | Grover Cleveland | 90,111 | 35.9 | James Blaine | 154,410 | 61.5 | Benjamin Butler | 1,691 | 0.7 | John St John | 4,311 | 1.7 |
| Kentucky | Grover Cleveland | 152,961 | 55.6 | James Blaine | 118,690 | 43.2 | Benjamin Butler | 120 | | John St John | 3,139 | 1.1 |
| Louisiana | Grover Cleveland | 62,594 | 55.3 | James Blaine | 46,347 | 40.9 | Benjamin Butler | 3,955 | 3.5 | John St John | 338 | 0.3 |
| Maine | Grover Cleveland | 52,153 | 41.0 | James Blaine | 72,217 | 56.8 | Benjamin Butler | 578 | 0.5 | John St John | 2,160 | 1.7 |
| Maryland | Grover Cleveland | 96,866 | 46.2 | James Blaine | 85,748 | 40.9 | Benjamin Butler | 24,382 | 11.6 | John St John | 2,827 | 1.3 |
| Massachusetts | Grover Cleveland | 122,352 | 38.1 | James Blaine | 146,724 | 45.7 | Benjamin Butler | 42,252 | 13.2 | John St John | 9,923 | 3.1 |
| Michigan | Grover Cleveland | 149,835 | 41.1 | James Blaine | 192,669 | 52.9 | Benjamin Butler | 3,583 | 1.0 | John St John | 18,403 | 5.0 |
| Minnesota | Grover Cleveland | 70,065 | 37.6 | James Blaine | 111,685 | 59.9 | Benjamin Butler | - | | John St John | 4,684 | 2.5 |
| Mississippi | Grover Cleveland | 77,653 | 64.3 | James Blaine | 43,035 | 35.7 | Benjamin Butler | - | | John St John | - | |
| Missouri | Grover Cleveland | 236,023 | 53.5 | James Blaine | 203,081 | 46.0 | Benjamin Butler | - | | John St John | 2,164 | 0.5 |
| Nebraska | Grover Cleveland | 54,391 | 40.5 | James Blaine | 76,912 | 57.3 | Benjamin Butler | - | | John St John | 2,899 | 2.2 |
| Nevada | Grover Cleveland | 5,577 | 43.6 | James Blaine | 7,176 | 56.2 | Benjamin Butler | 26 | 0.2 | John St John | - | |
| Now Hampshire | Grover Cleveland | 39,198 | 46.3 | James Blaine | 43,254 | 51.1 | Benjamin Butler | 554 | 0.7 | John St John | 1,580 | 1.9 |
| New Jersey | Grover Cleveland | 127,747 | 49.0 | James Blaine | 123,436 | 47.3 | Benjamin Butler | 3,486 | 1.3 | John St John | 6,156 | 2.4 |
| New York | Grover Cleveland | 563,048 | 48.2 | James Blaine | 562,001 | 48.2 | Benjamin Butler | 16,955 | 1.5 | John St John | 24,999 | 2.1 |
| North Carolina | Grover Cleveland | 142,905 | 53.3 | James Blaine | 125,021 | 46.6 | Benjamin Butler | - | | John St John | 430 | 0.2 |
| Ohio | Grover Cleveland | 368,280 | 46.9 | James Blaine | 400,092 | 51.0 | Benjamin Butler | 5,179 | 0.7 | John St John | 11,069 | 1.4 |
| Oregon | Grover Cleveland | 24,598 | 46.7 | James Blaine | 26,845 | 51.0 | Benjamin Butler | 726 | 1.4 | John St John | 479 | 0.9 |
| Pennsylvania | Grover Cleveland | 394,772 | 43.9 | James Blaine | 472,792 | 52.5 | Benjamin Butler | 16,992 | 1.9 | John St John | 15,154 | 1.7 |
| Rhode Island | Grover Cleveland | 12,391 | 37.8 | James Blaine | 19,030 | 58.1 | Benjamin Butler | 422 | 1.3 | John St John | 928 | 2.8 |
| South Carolina | Grover Cleveland | 69,845 | 75.3 | James Blaine | 21,730 | 23.4 | Benjamin Butler | - | | John St John | - | |
| Tennessee | Grover Cleveland | 133,770 | 51.5 | James Blaine | 124,101 | 47.7 | Benjamin Butler | 957 | 0.4 | John St John | 1,150 | 0.4 |
| Texas | Grover Cleveland | 223,209 | 69.5 | James Blaine | 91,234 | 28.4 | Benjamin Butler | 3,310 | 1.0 | John St John | 3,489 | 1.1 |
| Vermont | Grover Cleveland | 17,331 | 29.2 | James Blaine | 39,514 | 66.5 | Benjamin Butler | 785 | 1.3 | John St John | 1,752 | 2.9 |
| Virginia | Grover Cleveland | 145,491 | 51.1 | James Blaine | 139,356 | 48.9 | Benjamin Butler | - | | John St John | 130 | |
| West Virginia | Grover Cleveland | 67,311 | 50.9 | James Blaine | 63,096 | 47.7 | Benjamin Butler | 799 | 0.6 | John St John | 939 | 0.7 |
| Wisconsin | Grover Cleveland | 146,447 | 45.8 | James Blaine | 161,155 | 50.4 | Benjamin Butler | 4,594 | 1.4 | John St John | 7,651 | 2.4 |