1852 Election Results Pierce VS scott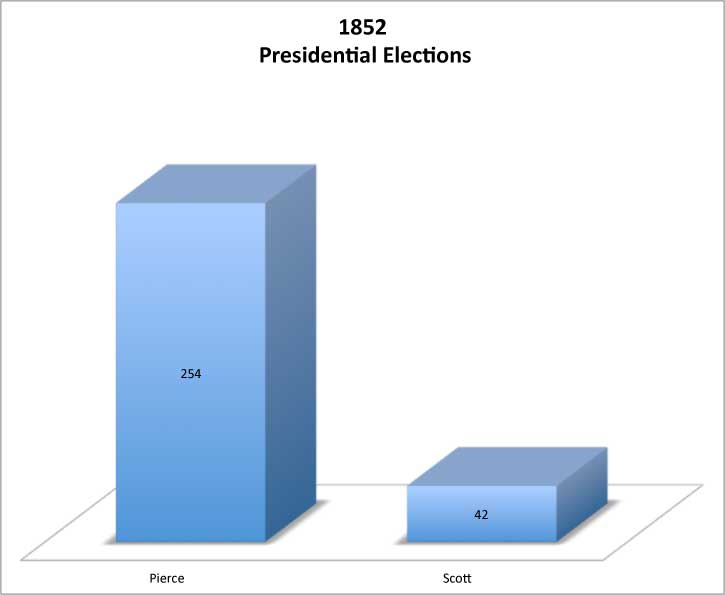 The Whigs nominated Winfield Scott, a military hero from the Mexican American War. The Whigs were hopelessly divided in the campaign. While the Southern Whigs enthusiastically supported their candidate, the Northern Whigs were reluctant supporters. The Democrats, in contrast, were united; with many of those who had deserted the party in 1848 having returned. The returnees included former President Van Buren, who supported Pierce.
This campaign was very personal, with both candidates accusing the other of being a drunk. Scott was accused of being pompous and too in love with his rank. Pierce was accused of collapsing and being a coward during the Mexican American War, where he served as a General; a citizen soldier. Pierce, who had been both a Congressman and Senator from New Hampshire, was also a recovering alcoholic.
In the end, the voters chose the dark horse, Pierce, over the well-known general, whom they did not seem to like. This effectively brought an end to the Whig party. Pierce, who was 48 years old at the time, became the youngest man to be elected President of the United States.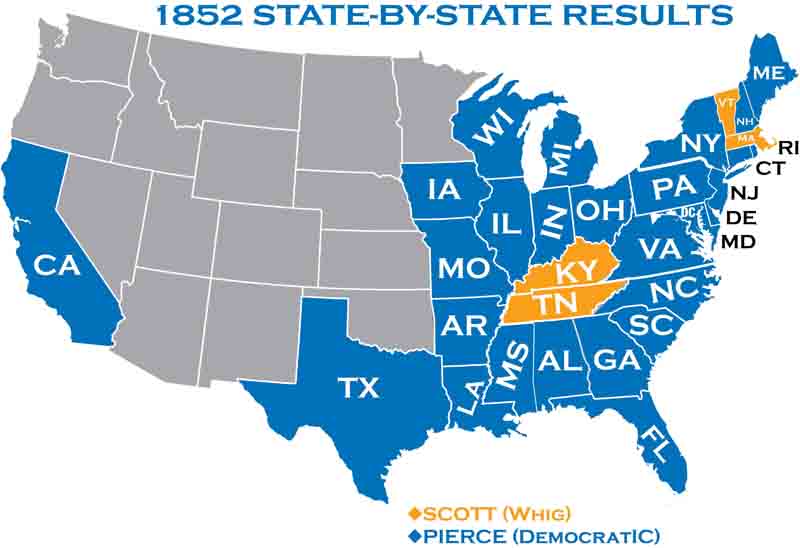 State results in 1852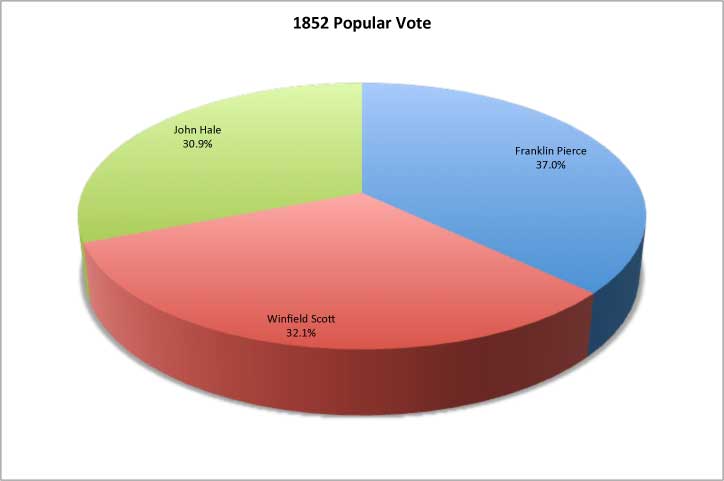 Popular Results in 1852
| | | | | | | | | | |
| --- | --- | --- | --- | --- | --- | --- | --- | --- | --- |
| Alabama | Franklin Pierce | 26,881 | 60.9 | Winfield Scott | 15,061 | 34.1 | John Hale | | |
| Arkansas | Franklin Pierce | 12,173 | 62.2 | Winfield Scott | 7,404 | 37.8 | John Hale | | |
| California | Franklin Pierce | 40,721 | 53.0 | Winfield Scott | 35,972 | 46.8 | John Hale | 61 | 0.1 |
| Connecticut | Franklin Pierce | 33,249 | 49.8 | Winfield Scott | 30,359 | 45.5 | John Hale | 3,161 | 4.7 |
| Delaware | Franklin Pierce | 6,318 | 49.9 | Winfield Scott | 6,293 | 49.7 | John Hale | 62 | 0.5 |
| Florida | Franklin Pierce | 4,318 | 60.0 | Winfield Scott | 2,875 | 40.0 | John Hale | - | |
| Georgia 2 | Franklin Pierce | 40,516 | 64.7 | Winfield Scott | 16,660 | 26.6 | John Hale | - | |
| Illinois | Franklin Pierce | 80,378 | 51.9 | Winfield Scott | 64,733 | 41.8 | John Hale | 9,863 | 6.4 |
| Indiana | Franklin Pierce | 95,340 | 52.0 | Winfield Scott | 80,907 | 44.2 | John Hale | 6,929 | 3.8 |
| Iowa | Franklin Pierce | 17,763 | 50.2 | Winfield Scott | 15,856 | 44.8 | John Hale | 1,606 | 4.5 |
| Kentucky | Franklin Pierce | 53,949 | 48.3 | Winfield Scott | 57,428 | 51.4 | John Hale | 266 | 0.2 |
| Louisiana | Franklin Pierce | 18,647 | 51.9 | Winfield Scott | 17,255 | 48.1 | John Hale | - | |
| Maine | Franklin Pierce | 41,609 | 50.6 | Winfield Scott | 32,543 | 39.6 | John Hale | 8,030 | 9.8 |
| Maryland | Franklin Pierce | 40,022 | 53.3 | Winfield Scott | 35,077 | 46.7 | John Hale | 21 | |
| Massachusetts | Franklin Pierce | 44,569 | 35.1 | Winfield Scott | 52,683 | 41.4 | John Hale | 28,023 | 22.0 |
| Michigan | Franklin Pierce | 41,842 | 50.4 | Winfield Scott | 33,860 | 40.8 | John Hale | 7,237 | 8.7 |
| Mississippi | Franklin Pierce | 26,896 | 60.5 | Winfield Scott | 17,558 | 39.5 | John Hale | - | |
| Missouri | Franklin Pierce | 38,817 | 56.4 | Winfield Scott | 29,984 | 43.6 | John Hale | - | |
| New Hampshire | Franklin Pierce | 28,503 | 56.4 | Winfield Scott | 15,486 | 30.6 | John Hale | 6,546 | 13.0 |
| Now Jersey | Franklin Pierce | 44,301 | 52.8 | Winfield Scott | 38,551 | 45.9 | John Hale | 336 | 0.4 |
| New York | Franklin Pierce | 262,083 | 50.2 | Winfield Scott | 234,882 | 45.0 | John Hale | 25,329 | 4.8 |
| North Carolina | Franklin Pierce | 39,788 | 50.4 | Winfield Scott | 39,043 | 49.5 | John Hale | - | |
| Ohio | Franklin Pierce | 169,193 | 47.9 | Winfield Scott | 152,577 | 43.2 | John Hale | 31,133 | 8.8 |
| Pennsylvania | Franklin Pierce | 198,568 | 51.2 | Winfield Scott | 179,182 | 46.2 | John Hale | 8,500 | 2.2 |
| Rhode Island | Franklin Pierce | 8,735 | 51.4 | Winfield Scott | 7,626 | 44.8 | John Hale | 644 | 3.8 |
| Tennessee | Franklin Pierce | 56,900 | 49.3 | Winfield Scott | 58,586 | 50.7 | John Hale | - | |
| Texas | Franklin Pierce | 14,857 | 73.5 | Winfield Scott | 5,356 | 26.5 | John Hale | - | |
| Vermont | Franklin Pierce | 13,044 | 29.8 | Winfield Scott | 22,173 | 50.6 | John Hale | 8,621 | 19.7 |
| Virginia | Franklin Pierce | 73,872 | 55.7 | Winfield Scott | 58,732 | 44.3 | John Hale | - | |
| Wisconsin | Franklin Pierce | 33,658 | 52.0 | Winfield Scott | 22,240 | 34.4 | John Hale | 8,842 | 13.7 |