The Great White Fleet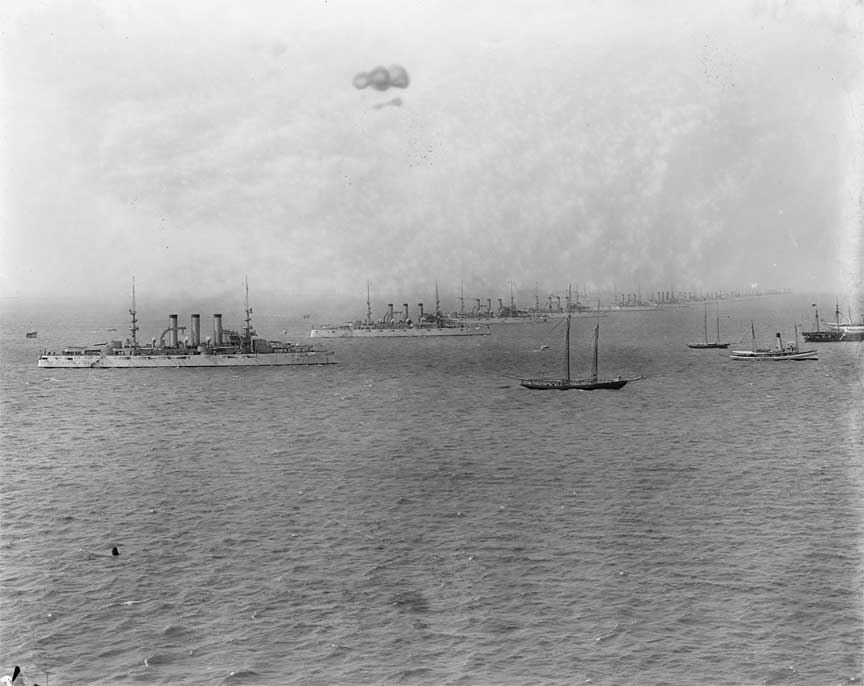 President Roosevelt, who believed in grand flourishes, dreamed up such a gesture to impress the world, and especially the Japanese, with American power. He planned to send the entire American battle fleet on a voyage around the world. Critics protested that it would provoke war, or alternately leave the American east coast unprotected.

Roosevelt went ahead, and on December 16, a fleet of 16 American battleships set sail. They were met with a tumultuous response wherever they went -- including Japan. The trip underscored the growing power of the United States.
---
President Roosevelt wanted to show off America's power. He decided to send all of the battleships of the US Navy on around the world voyage to show off American sea power. The undertaking was a major logistic challenge for the navy which had never undertaken anything that large.
On December 16, 1907, the US fleet led by the battleship Connecticut set sail from Hampton Roads Virginia. The Panama Canal had not yet been completed, so the fleet had to sail around the Straits of Magellan in South America. The fleet included the Kearsarge and Kentucky the two oldest battleships, the Maine and the Alabama which were replaced by the Nebraska and Wisconsin( the Maine and Alabama had mechanical problems but completed their voyage), the Minnesota, Illinois, Vermont, Rhode Island, Georgia, Missouri, Kansas, Virginia, and Louisiana. Accompanying the battleships were the Culgoa and Glacier, storeships, the Panther a repair ship the Yankton, a tender and Relief a hospital ship.
The fleets first stop was Port of Spain, then Rio de Janeiro, Brazil, unto Arenas, Chile, Magdalena Bay Mexico arriving in San Francisco on May 6, 1908.
The second leg of the voyage was on the West Coast between San Francisco and Puget Sound again. The third leg of the journey began on July 7, 1908. The fleet then went to Honolulu, Auckland, Sydney, Melbourne, Albany(Western Australia), Manila, Yokohama Japan, Amoy China, and Manila again. The fleet set off for its final let on December 1, 1908, from Manila. The fleet stopped at Colombo Ceylon, Suez Egypt Gibraltar and finally arriving back in the last days of the Roosevelt administration on February 22, 1909, at Hampton Roads Virginia.
The voyage was a great success. The voyage in which 14,000 naval personnel took place went off without any significant technical hitches. The fleet was met with enthusiastic crowds who came to see the white ships of the US fleet. The voyage showed that America was now a world power who could no longer be ignored in international matters. America was now entirely on the world stage.