The Triangle Shirt Fire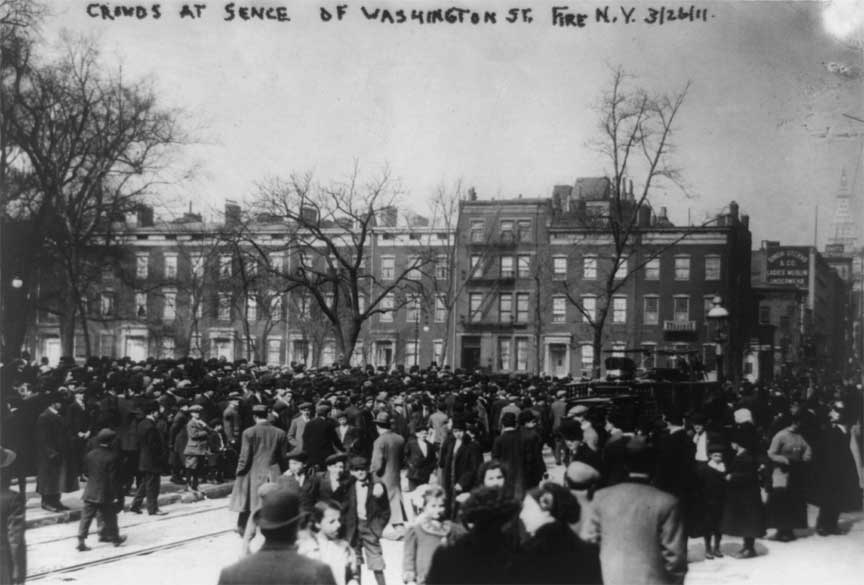 One hundred and forty-six young female and male employees of the Triangle Shirtwaist Company lost their lives in a tragic fire. The fire underscored the poor working conditions in garment factories. As a result of the fire, there were far greater inspections of saftey conditions in factories.
---
At 4:40 PM on Saturday, March 25, 1911, as the workday was coming to an end a fire broke out in a scrap bin under one of the worker's tables. The fire spread rapidly through the factory which was filled with flammable material. One of the main exits was locked to prevent theft. The main stairs soon became blocked. Despite the first, the elevator operator made three trips to get as many people as possible. There was one fire escape and its soon buckled and people who were trying to use it fell to their deaths.
With no way out many leaped to their death. Firefighters were helpless to help, their ladders did not reach above the 6th floor, and their nets could not catch those jumping to their deaths.
One hundred forty-six workers died that day, 123 mostly young women and 23 men.
In the aftermath of the fire, the owners of the company Max Blanck and Isaac Harris were charged first and second-degree manslaughter for having locked the exit dogs. They were acquitted after claiming that they did not know. Most importantly the fire provoked the New York state legislator to create the Factory Investigating Commission. That commission held extensive hearings, and that resulted in 38 new laws in New York to improve factory working conditions. In addition as a result of the fire, the American Society of Safety Engineers was founded on October 14, 1911.