The Palmer Raids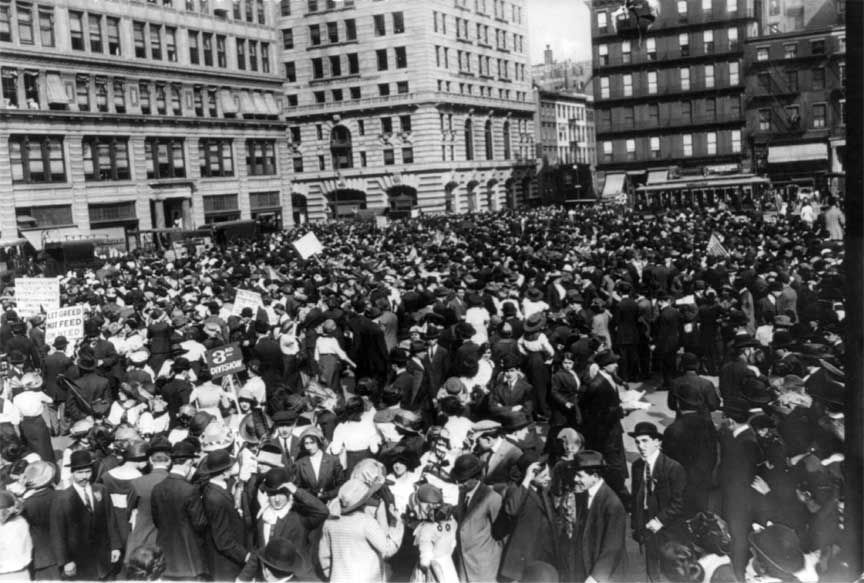 After the Russian Revolution, a red scare developed in the United States. Government officials led by Attorney General Palmer were convinced that radical communist was going to try to overthrow the government. In reaction, Palmer led raids between November 1919 and January 1920 arresting people with suspected radical ties. As a result of the raid 500, foreign citizens were deported. Others were arrested, but the courts did not support the arrests.
---

As a result of the Russian Revolution of 1917, some members of the US government became fearful that radicals in the United States would try to overthrow the US government. Among those most concerned was Attorney General Palmer. Palmer was convicted that radial Italian and Eastern European Jewish immigrants were communist supporters and were ready and willing to lead a revolution.
The concern was not without some basis in late April 1919 bobs were mailed to prominent businessman and politicians. The following people were targeted:
Theodore G. Bilbo, Governor of Mississippi
Frederick Bullmers, editor, Jackson, Mississippi Daily News
Albert S. Burleson, Postmaster General of the United States
John L. Burnett, U.S. Representative, Alabama
Anthony Caminetti, Commissioner General of Immigration
Edward A. Cunha, Assistant District Attorney, San Francisco
Richard Edward Enright, Police Commissioner, New York City
T. Larry Eyre, Pennsylvania state senator
Charles M. Fickert, District Attorney, San Francisco
Rayme Weston Finch, field agent, Bureau of Investigation
Ole Hanson, Mayor of Seattle, Washington
Thomas W. Hardwick, former U.S. Senator, Georgia
Oliver Wendell Holmes, Jr, United States Supreme Court justice
Frederic C. Howe, Port of New York Commissioner of Immigration
John F. Hylan, mayor, New York City
Albert Johnson, U.S. Representative, Washington
William H. King, U.S. Senator, Utah
William H. Lamar, Solicitor of the Post Office
Kenesaw Mountain Landis, U.S. District Judge, Chicago
J. P. Morgan, Jr., businessman
Frank Knowlton Nebeker, Special Assistant to the Attorney General
Lee S. Overman, U.S. Senator, North Carolina
A. Mitchell Palmer, Attorney General of the United States
John D. Rockefeller, businessman
William I. Schaffer, Attorney General, Pennsylvania
Walter Scott, mayor, Jackson, Mississippi
Reed Smoot, U.S. Senator, Utah
William C. Sproul, Governor of Pennsylvania
William B. Wilson, United States Secretary of Labor
William Madison Wood, president, American Woolen Company
The only bomb to reach its target was sent to George Senator Thomas Hardwick. It blew off the hands of his housekeeper and wounded his wife. The others were intercepted before they reached their intended targets.
In June 1919 another set of bombs was aimed at eight targets in eight cities. One of the targets was the home of Attorney General Palmer. While none of the bombs killed any of their target Palmer's home was destroyed mainly and his across the street neighbor Franklin Roosevelt was almost killed. Left behind at each of the bombings was a radical pamphlet.

As a result of these attacks Palmer went to Congress and asked for a $500,000 increase in his budget so he could pursue the radicals, the Congress gave him $100,000. His first raid was against an anarchist group in Buffalo. However, when the case came before a judge, it was tossed out. The judge said the group was planning to transform the government through speech, and speech was protected.
Palmer decided he needed to concentrate on immigrants, immigrants whom he could have deported without a complicated judicial review. On November 7, 1919, agents of the Bureau of Investigation (forerunner of the FBI) conducted raids in 12 cities aimed at the Union of Russian Workers. In New York alone they arrested 650 people of whom 43 were deported.
In January 1920 another set of raids took place. The raids began on January 2, 1920, and continued for six weeks. The raids took place in 30 cities, and a total of 3,000 people were arrested.
In total 10,000 people were arrested, 3,000 held and 556 resident aliens were deported. However, civil liberties advocates began to criticize the actions, and Acting Secretary of Labor Louis Freeland Post started to oppose the raids. Massachusetts District Court Judge George Anderson threw out the charges on many of the those arrested writing: "a mob is a mob, whether made up of Government officials acting under instructions from the Department of Justice or of criminals and loafers and the vicious classes." This effectively ended the raids.