President McKinley Assassinated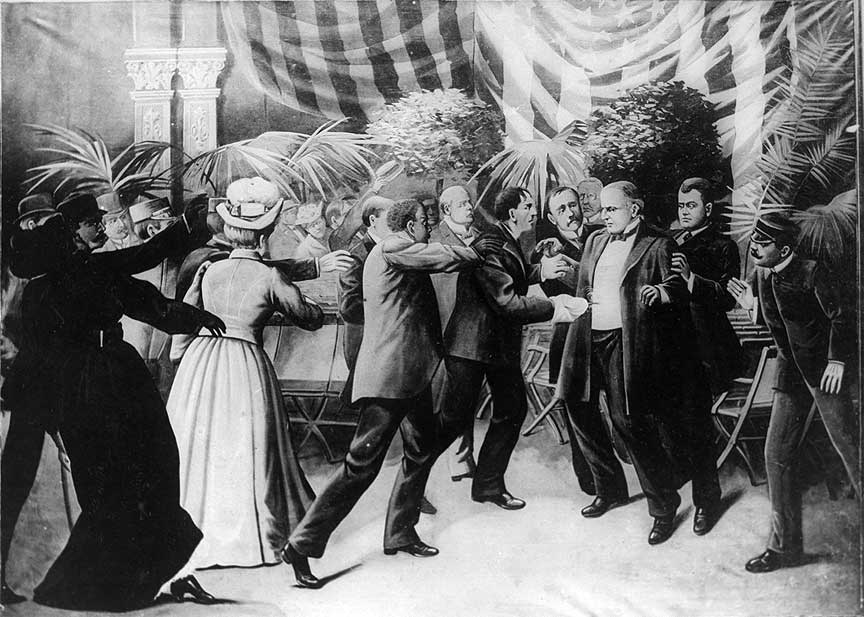 .
---
President McKinley traveled to Buffalo to attend the Pan American Fair and give what he thought would be an important speech about international relations and trade. On the first day of his visit on September 5th, 116,000 visited the fair, and 50,000 turned out to hear him speak. He visited many of the exhibits of the fair and then gave a speech whose main themes were American prosperity and the unity of the modern world. Among the most memorable lines in his speech, he stated "Isolation is no longer possible or desirable. God and man have linked the nations together. The period of exclusiveness is past". Standing behind him as he spoke was Ida, his wife. After the speech and additional touring of the fair McKinley had a quiet dinner in the home, they were staying at and returned to the fairgrounds to see a display of fireworks and the lights of the fairgrounds in the night.
The next morning the Presidential party set off on sightseeing excursion of nearby Niagara Falls. After touring the falls and a nearby power plant, McKinley returned to the fairgrounds for a public meet and greet. The reception was held at the Temple of Music. The public reception was scheduled for 4 PM and was to last all of 10 minutes. At 4 PM the doors were opened, and people strode up to the President in groups of two. Among those who entered was Leon Czolgosz, the son of Polish immigrants. Czolgosz had few if any friends and was devoted to the ideas of anarchism and believed that the rulers were the enemy of the people. At 4:07 Czolgosz approached the President not with an outstretched hand but with a pistol, which he quickly discharged twice at McKinley.
McKinley had been struck twice once in the chest and once in the stomach. He was taken to the Fair hospital grounds where it was determined that the chest wound had only grazed him, but the belly wound was serious and the doctors operated. They did not find the bullet but fixed the stomach which the bullet had gone through. For unknown reasons, they did not use the Xray machine that was at the fairgrounds and thus closed up the President and hoped for the best.
McKinely held out for six days, rallying part of the time giving hope that he would survive. However, the bullet had damaged parts of his pancreas and kidney and the next Friday it was clear that the President was dying. McKinley said, "It is useless gentlemen, I think we ought to have a prayer." His wife was led in he held his hands as he Goodbye- Goodbye all- It is gods way, His Will nor ours be done. He put his arm around his wife smiled at her and Nearer my god thee Nearer to Thee. Those were his last words, and a few hours later the President was dead.