US Intervention in Russia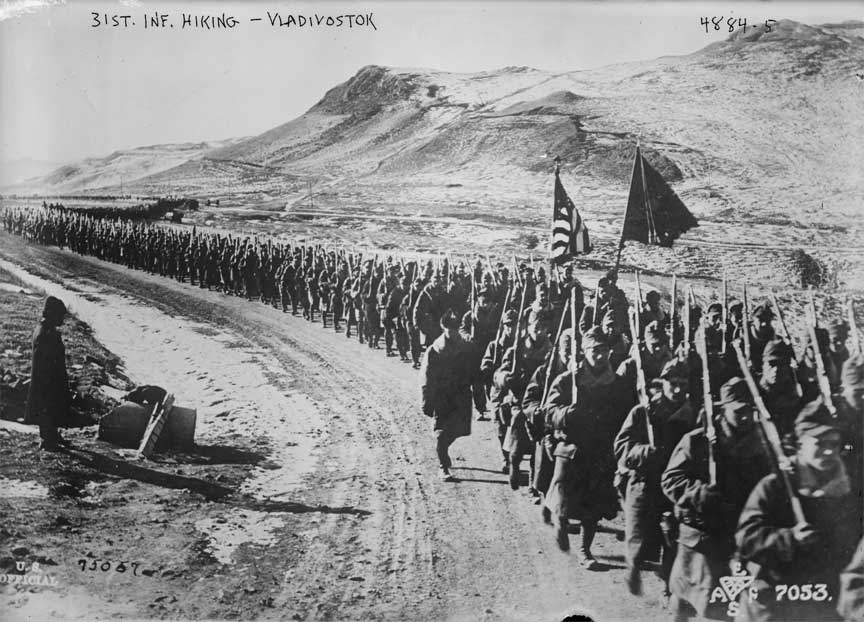 The United States took a limited role in the international force that intervened in the Russian Civil War. The stated purpose of the intervention was to ensure that Russian arms did not fall into German hands and to provide the means for trapped Allied troops to escape.
---
On November 8, one day after seizing power in Russia, the Congress of Soviets issued a decree on peace. It pleaded for a just and democratic peace which excluded the seizure of territories and the payment of indemnities. The appeal was made without consulting the Allies, who felt betrayed for having been left out.
On December 15, the Russians came to a peace agreement with the Central Powers. Many of the Allies who feared the Bolshevik take over of Russian now had a reason to intervene. The stated purpose was to protect the large stock of supplies that the allies had been shipping Russia via Siberia. While many of the allies intervened directly with the White Russians (those fighting the communists), President Wilson agreed to send US troops for two purposes only, to protect the arms shipped to Vladivostok and to rescue a force of 40,000 Czech troops who were trapped in Siberia.
The first member of the American Expeditionary Force, Siberia arrived on August 15th, 1918. Altogether 7,950 troops became parts of the force. The soldiers mostly performed guard duty, protecting the railroad. The mission commander General William S Graves refused to be drawn into battles with Soviet forces. The last Americans left Vladivostok on April 1, 1920. 189 American soldiers died during their time in the area.
At the same time, a separate mission named American Expeditionary Force, North Russia (AEF in North Russia) (also known as the Polar Bear Expedition) was sent to Arkhangelsk. 5,000 American troops participated in that force. The soldiers of the Polar Bear Expedition engaged in fighting with the Soviets, losing 110 men in battle. By August 1919 the last US troop withdrew from the area. A total of 229 American soldiers died then raging in the Soviet Union, on the side of the White Russians.
The United States sent 5,000 troops to Archangel in North Russia and another 10,000 troops to Siberia.