Panama Canal Opened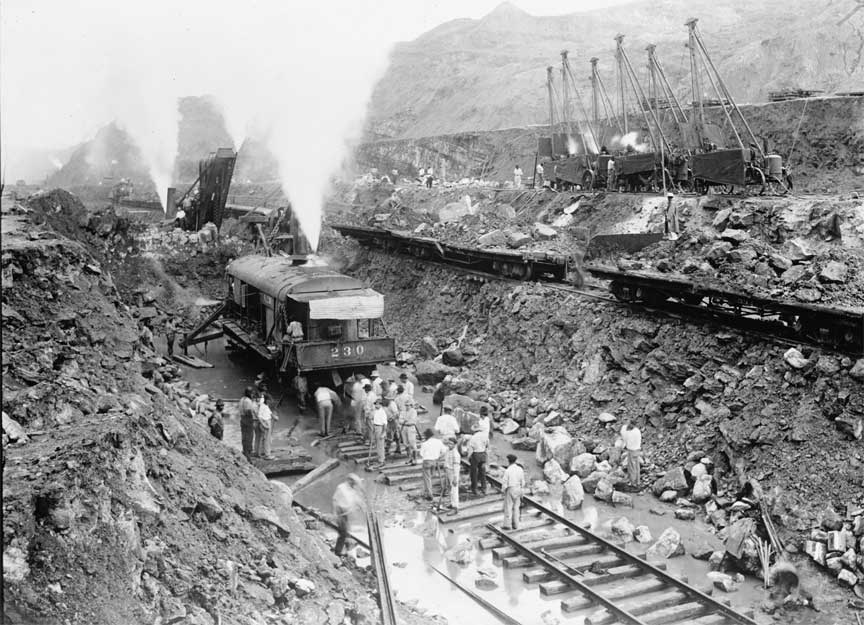 After 10 years of work, and at a cost of $366 million, the Panama Canal was completed. The canal decreased the sea voyage between the east and west coast of the United States by 7,000 miles. Six thousand workers died in the course of the construction of the canal. The first ship traversed the canal on January 7, 1914.
---
After the Spanish American War, the United States with navies in the Atlantic and Pacific building a canal became a high priority. President Roosevelt made it his priority to find a way to build a canal between the Pacific and Atlantic Oceans. In 1901 the Hay-Pauncefote Treaty gave the US the exclusive rights to build the canal. On June 19, 1902, the US Senate approved building a canal through Panama. Secretary John Hays signed an agreement with the Columbian foreign minister six months later to build a canal. The Columbian Congress rejected the offer believing that the price the US was willing to pay was too low.
President Roosevelt dispatched US warships to Panama City and Colon to support rebels fighting for independence. The Columbian troops were not able to get to Panama over land, and the insurgents declared Panama independent on November 3, 1903. The US rapidly negotiated a treaty that gave the US a 10-mile strip of land between the Atlantic and Pacific in return for a one-time payment of $10 million and an annual payment of $250,000. The United States also guaranteed the independence of Panama.
The French had begun to build a canal in 1881, but the construction was too difficult for the company building it embroiled in scandal. The US took over from the French on May 4, 1904, and benefited from some of the work and some of their equipment. After investigating the work that had been done to date, President Roosevelt approved a plan to build a canal with locks instead of the sea level canal that the French had been trying to develop. Roosevelt became the first President to leave the US while in office when he traveled to inspect the work
Work began in earnest in 1908. The most significant challenge was making a passage through the Culebra Cut- the highest point along the route.
A total of 75,000 people worked on the canal. A total of 238,8545,582 cu yd of earth were excavated. The building of the canal cost $375 million.
On October 10, 1913, a small dam was blown up by remote control by President Wilson which completed the canal. On January 7, 1914, the Alexandr La Valley became the first ship to traverse the canal.