June 12, 2018
Summit between President Trump and Kin Jong-un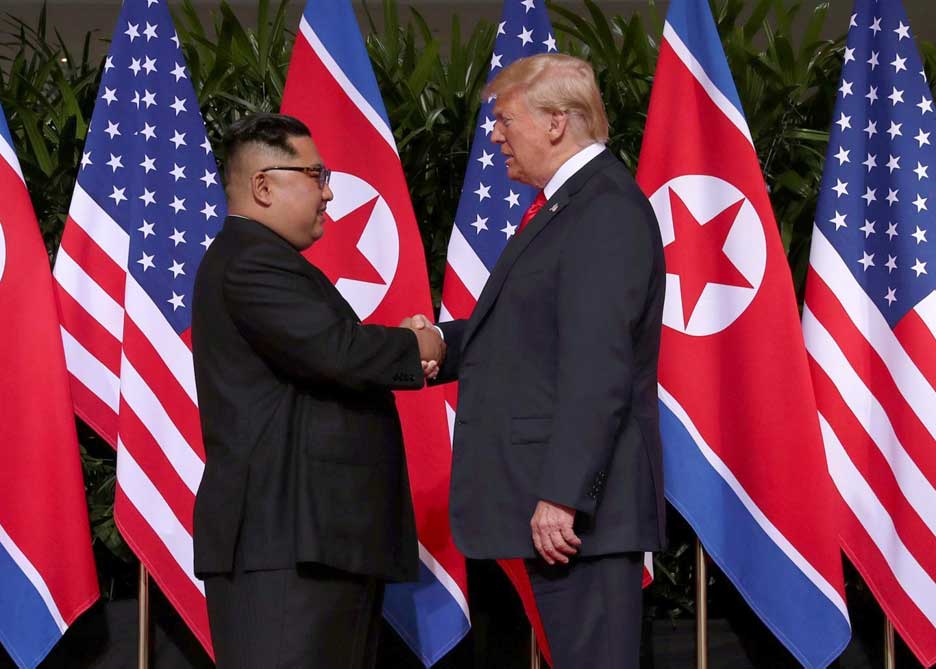 Trump and Kim Jong-un
President Trump and Chairman Kim Jong-un met in Singapore for the first ever summit between a US leader and the leader of North Korea. The United States stated purpose of the summit was reach an agreement that would lead to the denuclearization of North Korea. The summit itself took place after the North Korean leader reached out through the South Koreans, and requested the meeting and indicated his willingness to begin a process that would lead to his country giving up its nuclear weapons.
The North Korean leader arrived in Singapore aboard a borrowed Chinese 747. President Trump arrived directly from the G 7 meeting. Both arrived on June 10. The night before the meeting (June 11th) Kim spent some time touring Singapore.
Before the meeting Trump had said he would know in the first minute whether they were going to get along and reach an agreement. The summit began with an unprecedented 45 minute meeting with just Trump and Kim and their translators. Following the principals meeting an extended meeting that included the US Secretary of State Mike Pompeo and National Security advisor John Bolton. Following the larger meeting the sides met for a working lunch.
President Trump and Chairman Kim signed an agreement that committed the two sides to:
1. The United States and the DPRK commit to establish new U.S.-DPRK relations in accordance with the desire of the peoples of the two countries for peace and prosperity.
2. The United States and the DPRK will join their efforts to build a lasting and stable peace regime on the Korean Peninsula.
3. Reaffirming the April 27, 2018 Panmunjom Declaration, the DPRK commits to work toward complete denuclearization of the Korean Peninsula.
4. The United States and the DPRK commit to recovering POW/MIA remains, including the immediate repatriation of those already identified.
In the aftermath of meeting Trump supporters hailed the meeting as an important breakthrough. While opponents stated that he received nothing substantial from the North Koreans other than a pledge that had been received before to work toward denuclearization. Furthermore tThe President also agreed to call off any joint military maneuvers with the South Koreans which he called provocative and costly. No substantive discussion about human rights violations by the North Korean regime were held and there was a great deal of criticism of Trump saying that he developed a special relationship with Kim.
President Trump on the other hand stated that he was convinced that this was the first step in what he called an accelerated process to denuclearize North Korea. He was convinced that the North Korean leader wanted a different future for his country.
What it is clear is at least for the period immediately following the summit the chance of war breaking out with North Korea has decreased dramatically.