Obama Democratic Nominee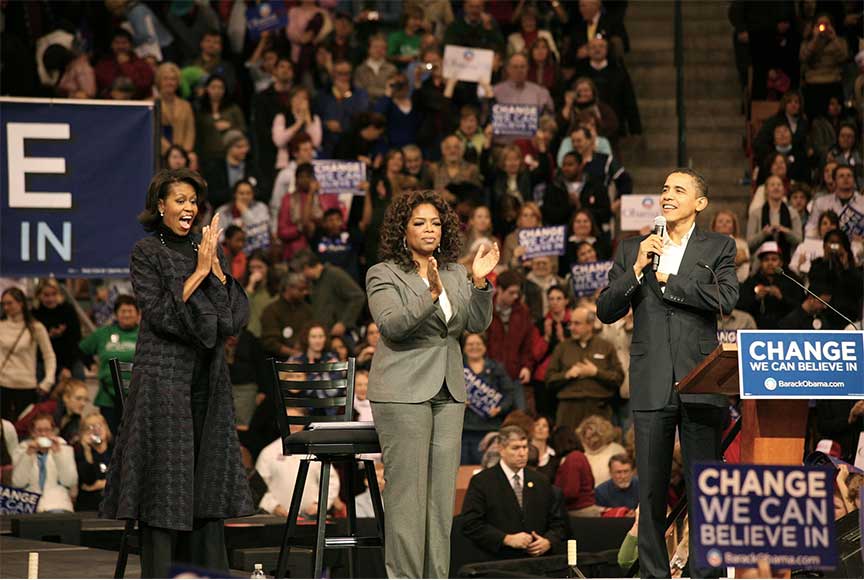 Obama capaigning in 2007 with Oprah Winfrey
Senator Barak Obama Clinched the Democratic Nomination for President on June 3, 2008. He thus became the first African American to become a major party candidate for President.
---
Barack Obama was born on August 4, 1961, in Honolulu, Hawaii. He attended Columbia College and then went to Harvard Law School. He taught at the University of Chicago Law School for twelve years—teaching constitutional law. Obama was elected to the Illinois Senate in 1996. In 2000, he lost a Democratic primary run for the U.S. House of Representatives to four-term incumbent Bobby Rush by a margin of two to one. Obama announced his candidacy for US Senate in January 2003 In the March 2004 primary election, Obama won in an unexpected landslide In July 2004, Obama's expected opponent in the general election, Republican primary winner Jack Ryan, withdrew from the race in and Obama went on to win an easy victory. Obama delivered the keynote address at the 2004 Democratic National Convention seen by 9.1 million viewers. His speech electrified the convention and suddenly thrust him on to the national stage. In 2007, after serving in the Senate for two years, Obama decided to seek the Democratic nomination for the Presidency in 2008.

Obama began his campaign as a long shot candidate, with Senator Hilary Clinton, the presumptive nominee. That ended in the first contest when Senator Obama won the Iowa caucus. Senator Clinton rebounded with a victory in New Hampshire. A long campaign followed in which Obama won more delegates and states, but Clinton won most of the largest states. Obama's campaign raised much more significant sums of money than the Clinton campaign and was initially very successful in getting out his message of change. After a string of victories that followed Super Tuesday Obama seemed unstoppable. Clinton won most of the later contests but was unable to overcome Obama's lead in delegates. On June 3rd Obama became the presumptive nominee and thus the first African-American candidate from a major party for President.