Ventura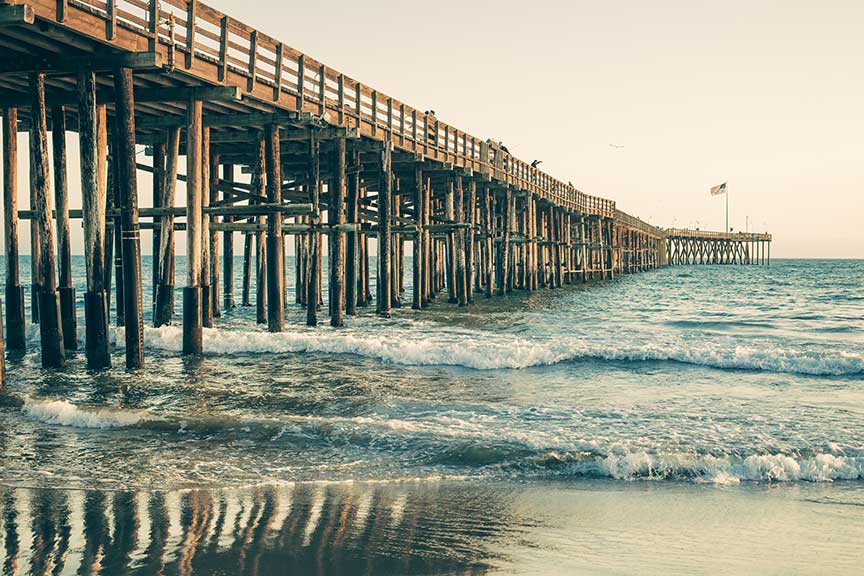 Basic Information
Population 2021:839,784

85.6% of the populution has a HS or higher education
There are 294,681 housing units in the city
21.3% of the residents were born abroad
Median Household Income:$89,295

9.1% of the Residents Live below the poverty line
Total Area1,840.79 Sq Miles
37,864 of the city residents are veterans
History of Ventura
When you imagine that less than 600 years ago, North America was a land filled with native tribes, robust animal populations, and vast stretches of uncharted land, you can envision a beautiful and wild place from coast to coast. It's amazing to think that in less than six centuries, so much has changed. The California coastal city of Ventura, more formally known as San Buenaventura, was officially founded in 1782, just 6 years after theDeclaration of Independence was signed.
This beautiful land was initially settled by the Spanish, but over the years has had influences from the Chinese populations in the region, Europeans, and more. There are three distinct eras in the history of Ventura, California. The first was the Spanish era which officially started in 1769. From there, they experienced a Mexican era after Mexico won its independence from Spain. The American era didn't officially begin until California became an official territory in 1848, and then a state a couple of years later. This diverse lineage means that Ventura, California has a rich cultural heritage. This is evident in the unique architecture, the museums, and other details are seen throughout the region.
If you don't already know, Ventura is one of the most beautiful cities in America. Set against the Pacific coast, and backed into beautiful mountains and valleys, the terrain made early settlement a challenge. In the 1860s acres of orchards had been established by Mission San Buenaventura. These were fed by traditional aqueducts. In truth, this enterprise was the largest ranch in California at the time. It wasn't until the early 1900s and into the 1930s though that Ventura saw a big boom in population growth.
At that time, immigrants, wealth, and people moved into the area as roads and bridges made the region more accessible. Ventura has enjoyed a long history of being business-friendly. From the early days until today, they have encouraged entrepreneurial enterprise. This made them a desirable destination as more settlers moved from the East Coast, the South, and other parts of the United States. In the 2020 census, the number of people in Ventura County had grown to over 839,784.
Major Places to Visit
Mission San Buenaventura: Founded on March 31, 1782, it was the ninth Spanish mission established in Alta California (or Nueva California) and the last to be established by the head of the Franciscan missions in California, Junípero Serra. Designated a California
Ventura Harbor

What's the Business Landscape Like Today?
Ventura has miles of hiking trails, museums, and cultural sites all over. People love being able to enjoy the beauty of the Pacific Ocean or head out to the mountains for a hike. Because of this beauty,Ventura, California attracts tourists and visitors throughout the year. This makes it an ideal location for businesses to reach customers with a variety of goods. Anything from local businesses that provide necessary services like water softening, home repair, and even car maintenance, to stores that carry boutique gifts and clothing can be found in the area.
Here are a few of the local businesses that call Ventura, California home:

Patgonia Inc: A retail of outdoor goods located in Ventura.
Rayne Water
Homes in the region depend on businesses like Rayne Water to provide essential water softening services. Hard water not only tastes off, but it can also ruin pipes and more. When you want a water softener in Ventura, they can help.  They've been a family-owned and operated enterprise since 1928, and provide high-quality services including drinking water systems, salt-free systems, and more.
Cliff House Inn and Shoals Restaurant
Want a quiet weekend getaway with luxurious amenities and the sounds of the ocean tide coming and going? Then reserve some time at the Cliff House inn and Shoals Restaurant. With a pool that overlooks the ocean and windows that face the water, this place is among the best to stay in the country. Whether you head over for a lunch meal or reserve a spot for dinner, you can expect 5-star service from the staff and chef.
Barefoot Boutique
Want dresses you can't find in department stores? What about a beautiful outfit for a photoshoot? Barefoot Boutique has some of the most incredible styles for its clothing and accessories. You can find silky cardigans, harem pants, beach blankets, and more. The styles are perfectly suited for running barefoot on the beach, going for a night out on the town, or heading to the store in pretty, but comfortable feminine clothing. They have two locations with one in Ventura to ensure customers can find them wherever they go.