New Mexico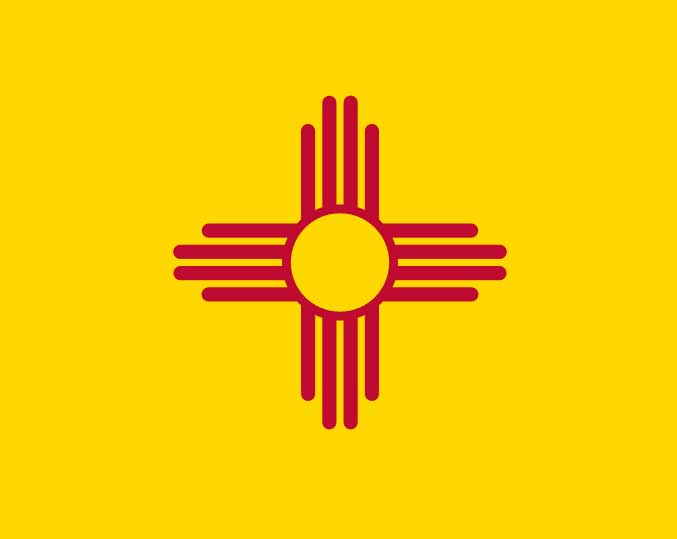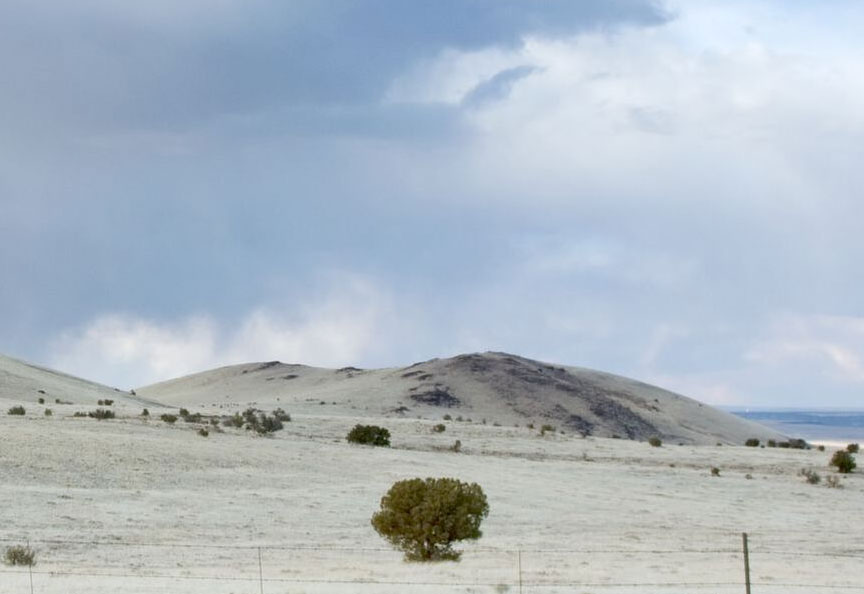 Basic Information
Postal Abbreviation: NM
Natives: New Mexican

Population 2020: 2,117,522
Legal Driving Age: 16
(*15 w/ Drivers Ed.)
Age of Majority: 18
Median Age: 36.7
State Song: "O, Fair New Mexico"
Lyrics & Music: Elizabeth Garrett
"Asi Es Nuevo Nejico"
Lyrics: Amadeo Lucero
Median Household Income:$46,718

Capital..... Santa Fe
Entered Union..... Jan. 6, 1912 (47th)
Present Constitution Adopted: 1911
Nickname: Land of Enchantment
Cactus State

Motto:
"Crescit Eundo (It grows as it goes)"
Origin of Name:
Named from the country of Mexico
or after the Aztec word for "place
of Mexitili (the god)."
New Mexico Economy
AGRICULTURE: apples, cattle, cotton,
grain, hay, lettuce, milk, peanuts,
pecans, peppers, potatoes.
MINING: coal, copper, natural gas,
petroleum, potash, sand , uranium
MANUFACTURING: electronics, food
processing, lumber and wood products.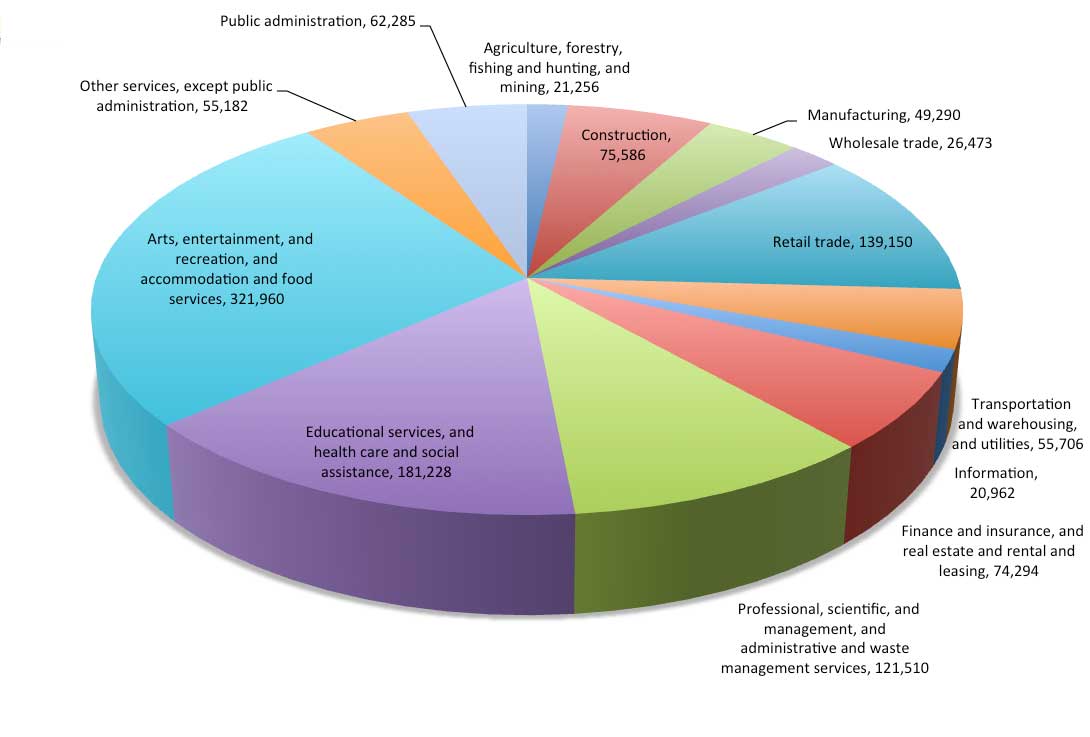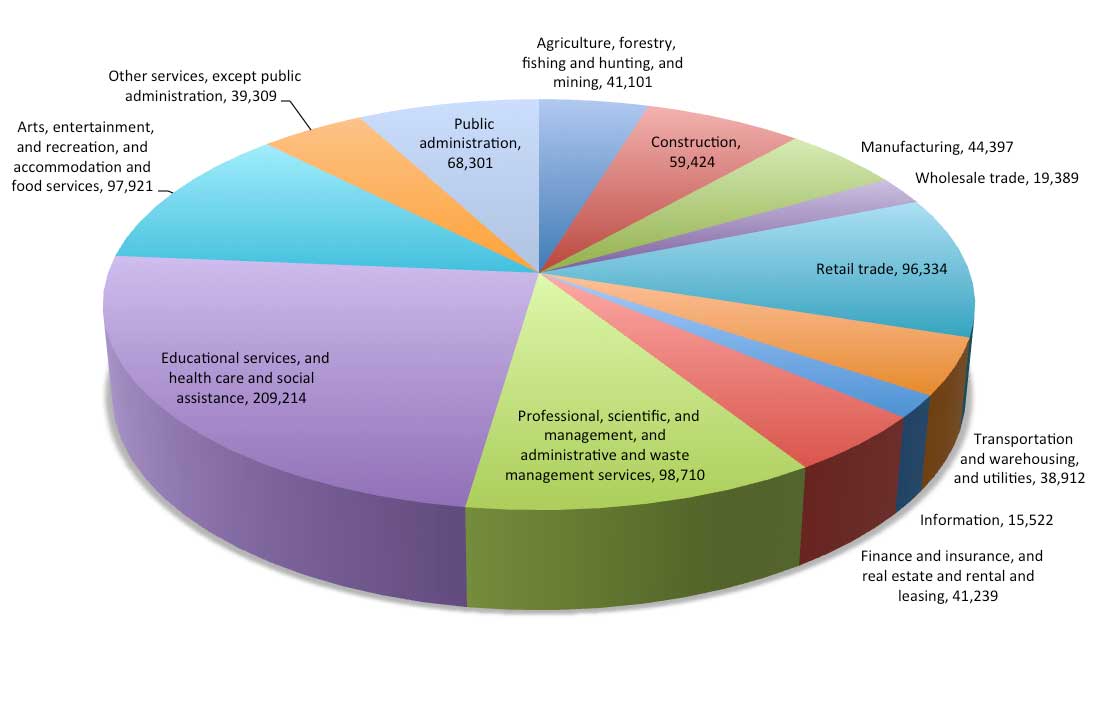 ---
New Mexico Geography
Total Area: 121,598 sq. miles
Land area: 121,364 sq. miles
Water Area: 234 sq. miles
Geographic Center: Torrance
12 mi. SSW of Willard
Highest Point: Wheeler Peak
(13,161 ft.)
Lowest Point: Red Bluff Reservoir
(2,842 ft.)
Highest Recorded Temp.: 116˚ F (7/14/1934)
Lowest Recorded Temp.: –50˚ F (1/5/1951)
Most of New Mexico is a high plateau, crossed by mountain ranges. The Rocky Mountains cross the eastern part of the state with peaks reaching 13,000 ft. The western part of the state is characterized by isolated peaks, lofty plateaus and deep canyons. The Rio Grande crosses the state providing the state's principal drainage system.
Cities
Albuquerque, 560,218
Las Cruces, 97,618
Santa Fe, 70,631
Rio Rancho, 67,947
Roswell , 48,366
Farmington, 45,877
Clovis, 37,775
Hobbs 34,122
Alamogordo, 30,403
Carlsbad, 26,138
New Mexico History
1540 Coronado crossed New Mexico in search of the Seven Cities of Cibola.
1599 The Spanish establish a settlement near Espanola.
1610 Sante Fe is established as the capital of New Mexico.
1706 Albuquerque was founded.
1846 During the Mexican American War Colonel Stephen Kearny captures
Santa Fe without resistance.
1862 During the Civil War a Confederate force briefly occupied Sante Fe.
1881 The gunfighter Billy the kid is killed by sheriff Pat Garret.
1885 Apache chief Geronimo leads an uprising.
1912 New Mexico was admitted as the 47th state in the Union.
1930 Carlsbad Cavern National Park was created.
1945 The first Atomic bomb was successfully tested in the New Mexico desert.
Famous People

Ralph Bunche
John Denver
Demi Moore
Georgia O'Keeffe
Harrison Schmitt .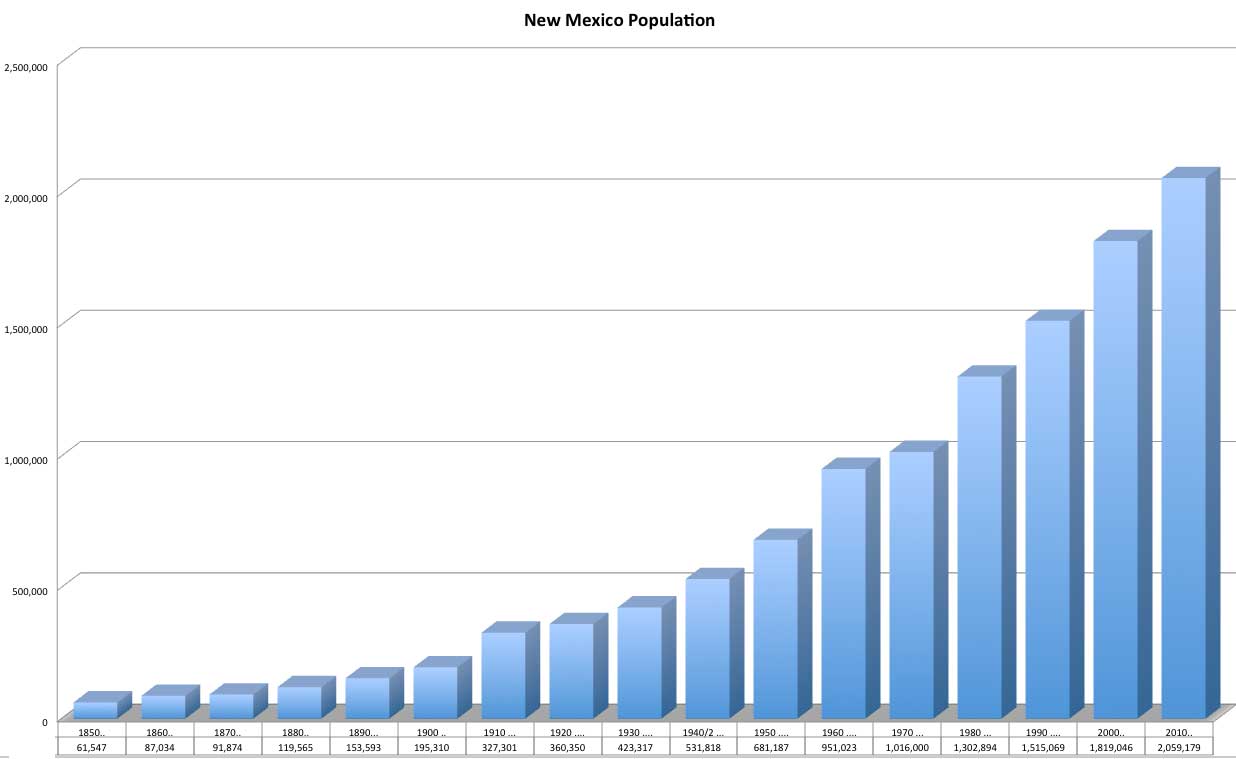 New Mexico National Sites
1) Aztec Ruins
Explore a 900-year old ancestral Pueblo Great House of over 400 masonry rooms. Look up and see original timbers holding up the roof. Search for the fingerprints of ancient workers in the mortar. Listen for an echo of ritual drums in the reconstructed Great Kiva.2)
2)Bandelier
Bandelier National Monument protects over 33,000 acres of rugged but beautiful canyon and mesa country as well as evidence of a human presence here going back over 11,000 years.
3) Capulin Volcano
Come view a dramatic landscape—a unique place of mountains, plains, and sky. Born of fire and forces continually reshaping the earth's surface, Capulin Volcano provides access to nature's most awe-inspiring work.
4)Carlsbad Caverns
Rocky slopes and canyons, cactus, grass, thorny shrubs, and the occasional tree, who could guess at the hidden treasures deep underground? Beneath this rugged land are more than 117 known caves - all formed when sulfuric acid dissolved the surrounding limestone.
5)Chaco Culture
Today the massive buildings of the ancestral Pueblo peoples still testify to the organizational and engineering abilities not seen anywhere else in the American Southwest.
6)El Camino Real de Tierra Adentro
Take a journey on El Camino Real de Tierra Adentro National Historic Trail to savor 300 years of heritage and culture in the Southwest.
7)El Malpais
Imagine the comfort and refreshment of finding water after days of dusty travel. A reliable waterhole hidden at the base of a sandstone bluff made El Morro (the headland) a popular campsite for hundreds of years.
8)Fort Union
Exposed to the wind, within a sweeping valley of short grass prairie, amid the swales of the Santa Fe Trail, lie the territorial-style adobe ruins of the largest 19th century military fort in the region.
8)Gila Cliff Dwellings
Explore the world of ancestors of Puebloan people who lived in the Mogollon area over 700 years ago. Enter the village they built within five of the natural caves of Cliff Dweller Canyon