Iowa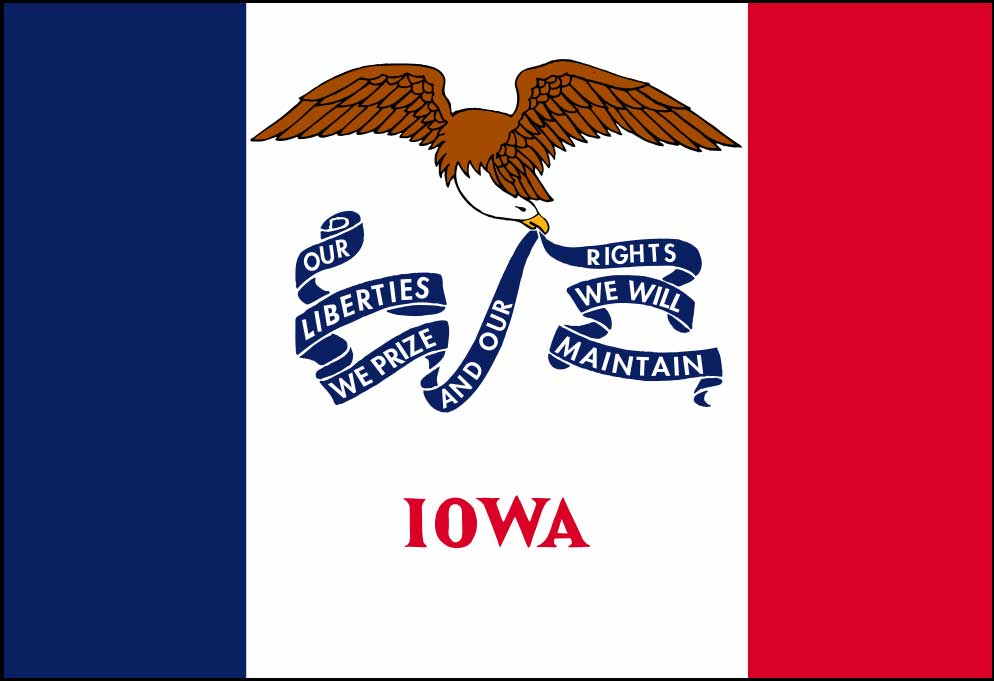 Basic Information
Postal Abbreviation: IA
Natives: Iowan

Population 2020: 3,190,369
Legal Driving Age: 18
(16 w/ Driver's Ed.)
Age of Majority: 18
Median Age: 38.1
State Song: "The Song of Iowa"
Lyrics: S.H.M. Byers
Music: Folk Tune
Median Household Income:$56,570

Capital..... Des Moines
Entered Union..... Dec. 28, 1846 (29th)
Present Constitution Adopted: 1857
Nickname: Hawkeye State

Motto:
"Our Liberties We Prize,
and Our Rights We Will Maintain"
Origin of Name:
An Indian word translated as "one who puts to sleep" or alternatively, "beautiful land".
Iowa Economy
AGRICULTURE: cattle, corn, hay,
soybeans.
MINING: clay, gypsum, limestone,
sand, shale.
MANUFACTURING: chemicals,
electronics, food procession
machinery, metal, printing, rubber.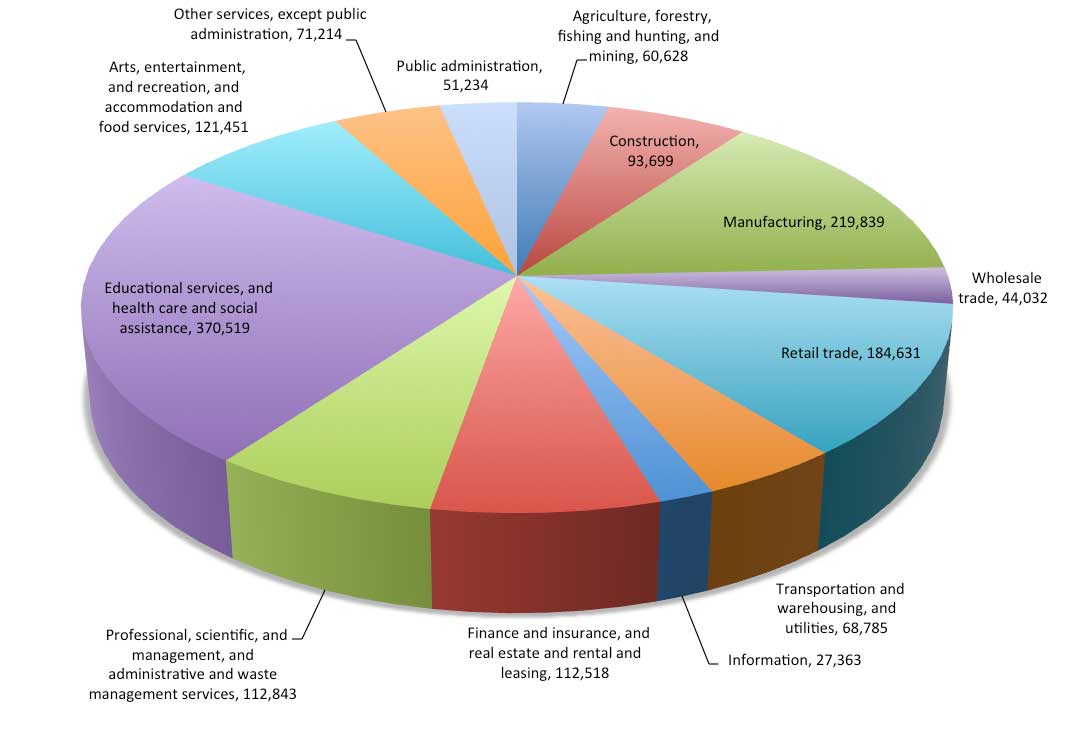 ---
Iowa Geography
Total Area: 56,276 sq. miles
Land area: 55,875 sq. miles
Water Area: 401 sq. miles
Geographic Center: Story
5 mi. NE of Ames
Highest Point: Osceola County (sec. #29)
(1,670 ft.)
Lowest Point: Mississippi River
(480 ft.)
Highest Recorded Temp.: 118˚ F (7/20/1934)
Lowest Recorded Temp.: –47˚ F (1/2/1912)
Iowa lies completely within the great central prairie belt. The surface of the state is level, with the highest elevation near Spirit Lake (1,604 feet). The center of the state is a basin between the Mississippi and Missouri River. The state is covered with prairie lands.
Cities
Des Moines, 216,853
Cedar Rapids, 133,174
Davenport, 02,085
Sioux City, 82,396
Waterloo, 67,798
Iowa City, 76,290
Council Bluffs, 62,230;
Ames, 58,965
Dubuque, 57,637
West Des Moines, 56,609.
Iowa History
1808 Fort Madison was established as a trading post for Indian trade.
1813 Fort Madison was abandoned after a series of Indian attacks.
1833 Bulington, Fort Madison, Peru and Bellevue were founded.
1838 The territory of Iowa was established.
1846 Iowa is admitted to the Union as the 29th state.
1856 A train crosses the Mississippi at Davenport, the first to do so.
1884 Prohibition is adopted.
Famous People
William Cody
George Gallup
Herbert Hoover
Harry Hopkins
John Lewis
John Wayne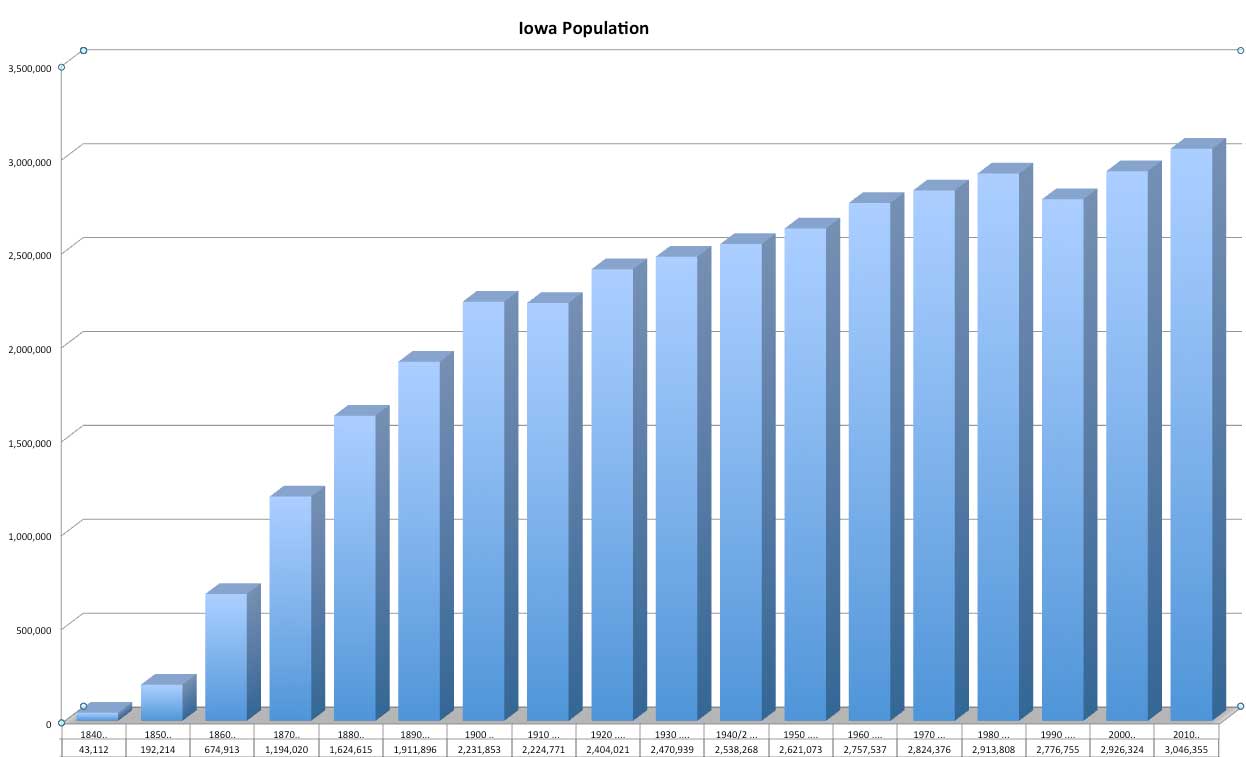 Iowa National Sites
1) Effigy Mounds National Monument
This site preserves 191 mounds of remains of prehistoric Indians. The site covers 1,500 acres.
2) Herbert Hoover National Historic Site
This site in West Branch Iowa honors the 31st President of the United States.