Hawaii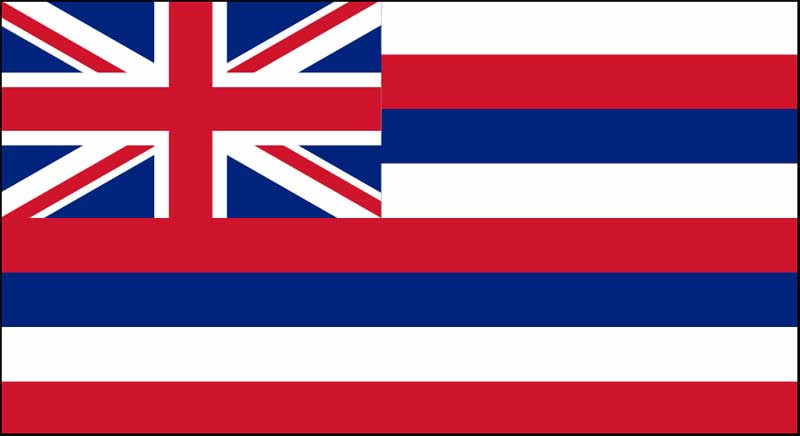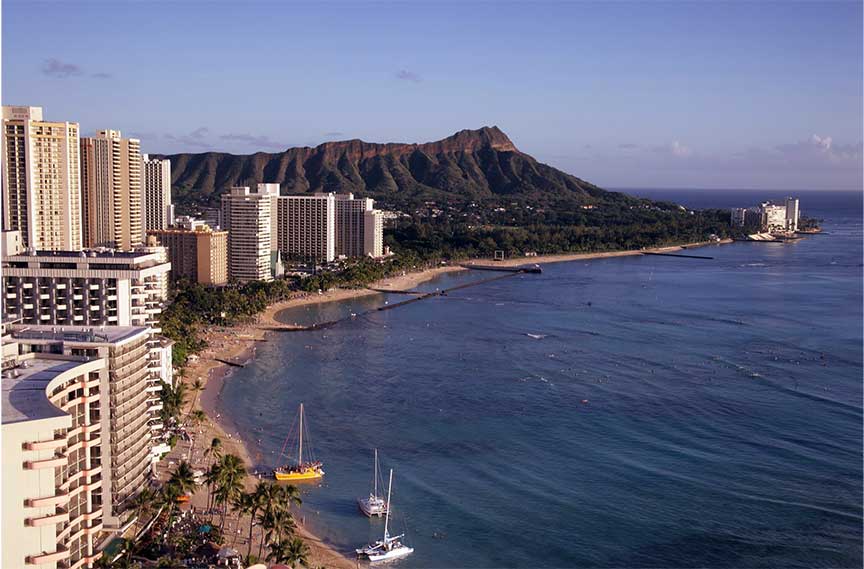 Basic Information
Postal Abbreviation: HI
Natives: Hawaiian

Population 2020 1,455,271
Legal Driving Age: 18
(16 w/ Driver's Ed.)
Age of Majority: 18
Median Age: 36.2
State Song: "Hawaii Ponoi"
(Our Hawaii)
Median Household Income:$74,923

Capital..... Honolulu
Entered Union..... Aug. 20,1959 (50th)
Present Constitution Adopted: 1950
Nickname: Aloha State
Paradise of the Pacific

Motto:
"Ua Mau ke Ea o ka Aina i ka Pono"
(The Life of the Land is Perpetuated in Righteousness)
Origin of Name:
May have been named for Hawaii Loa, the man who discoverd the island, according to legend or from the native language, meaning "small homeland".
Hawaii Economy
AGRICULTURE: flower, macadamia
nuts, melons, milk, pineapples
vegetables.
MINING: sand and gravel, stone.
MANUFACTURING: clothing, food
processing.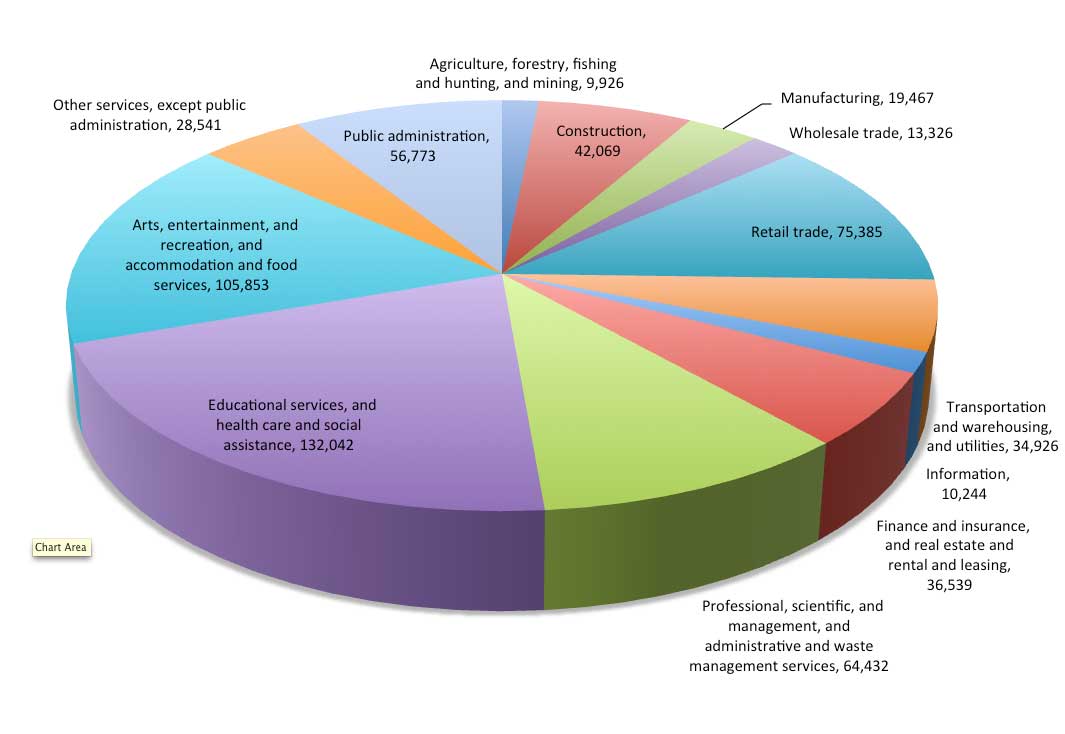 ---
Hawaii Geography
Total Area: 10,932 sq. miles
Land area: 6,423 sq. miles
Water Area: 4, 508 sq. miles
Geographic Center: Hawaii, off Maui Island
Highest Point: Puu Wekiu, Hawaii Island
(13,796 ft.)
Lowest Point: Pacific Ocean
(sea level)
Highest Recorded Temp.: 100˚ F (4/27/1931)
Lowest Recorded Temp.: 14˚ F (1/2/1961)
The Hawaiian Islands are a chain of 132 islands– of which eight are the main inhabited islands. The islands are, in fact, the peaks of large underwater volcanoes. The largest of the islands are: Hawaii (4,210 sq. miles); Maui (760 sq. miles); Kahoolsawee (63 sq. miles); Molokai (270 sq. miles); Lania (150 sq. miles); Oahu (600 sq. miles); Kanuai (590 sq. miles); Oahu (600 sq. miles); Kauai (590 sq. miles); and Niihau (97 sq. miles). The highest peak– Mauna Kea 13,805 is feet high.
Cities
Honolulu, 387,170;
Pearl City, 47,698;
Hilo, 43,263;
Kailua, 38,635;
Waipahu, 38,216;
Kaneohe, 34,597;
Mililani Town, 27,629;
Kahului, 26,337;
Kihei, 20,881;
Wahiawa, 17,821.
Hawaii History
1778 A British naval squadron commanded by Captain James Cook discovered
the Hawaiian Islands.
1779 Cook was killed in an altercation with natives.
1791 Kamehameha unifies the islands under his rule.
1820 New England missionaries arrive on the island to disseminate christianity. 1893 Queen Liliuokalani is overthrown by a group of American residents.
1894 The Republic of Hawaii was established with Sanford Dole as President.
1898 Hawaii was annexed by the United states.
1900 A territorial government was established.
1909 Construction began on the Pearl Harbor naval base.
1941 The Japanese attack the naval base at Pearl Harbor sinking most of the
American battleships there.
1959 Hawaii is admitted to the Union.
2008 Hawaiin native Barak Obama elected President
Famous People


Sanford Dole
Daniel Inouye
Bette Midler
Barak Obama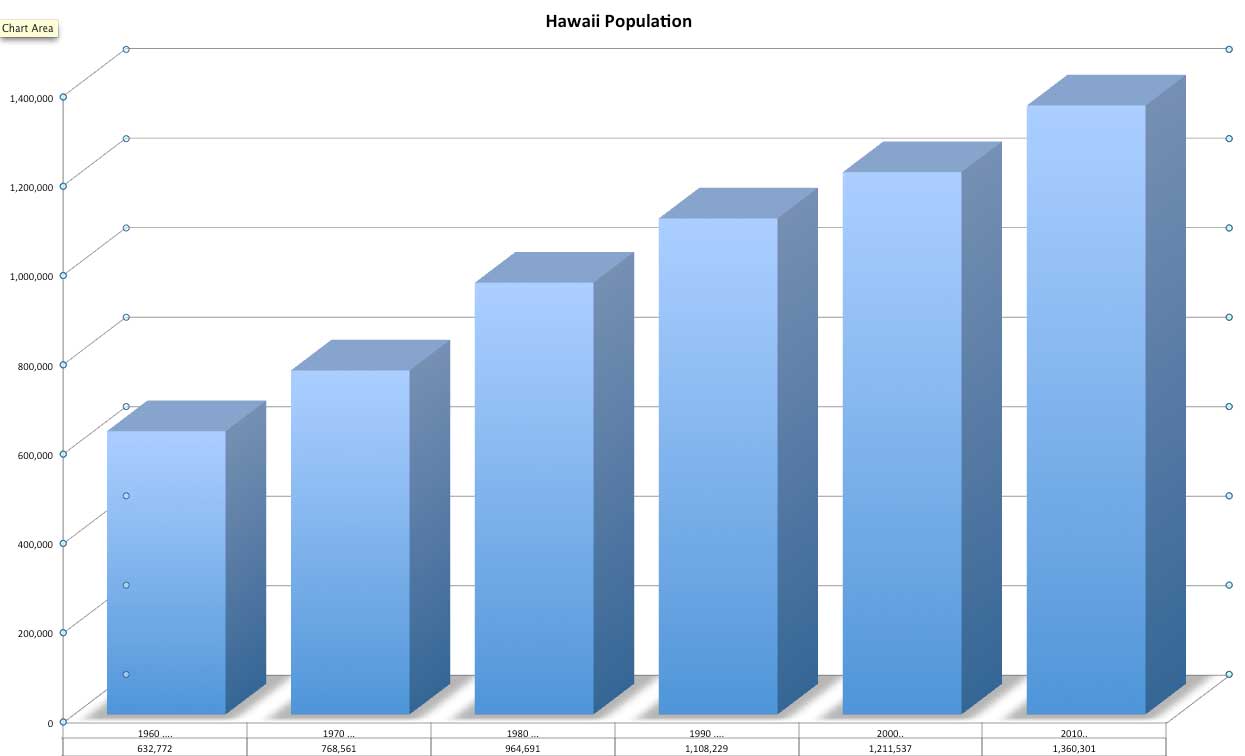 Hawaii National Sites
1) Halealala National Park
On the island of Maui this national Park center point is the Haleakala Crater.
It covers 28,655 acres and its highest point is the Pu'u Ula'ala summit at 10,023 feet.
2) Puukohola Heiau– National Historic Site
This site contains the Puukohola Heiau, temple, a temple that was built between 1790 and 1791.
3) Hawaii Volcanoes National Park
This national park preserves the beauty of Manuna Loa and Kilauea volcanoes. The park provides an ideal place to view volcanic activity. The park covers 229,117 acres.
Mauan Loa is considered the world most massive mountain.