Delaware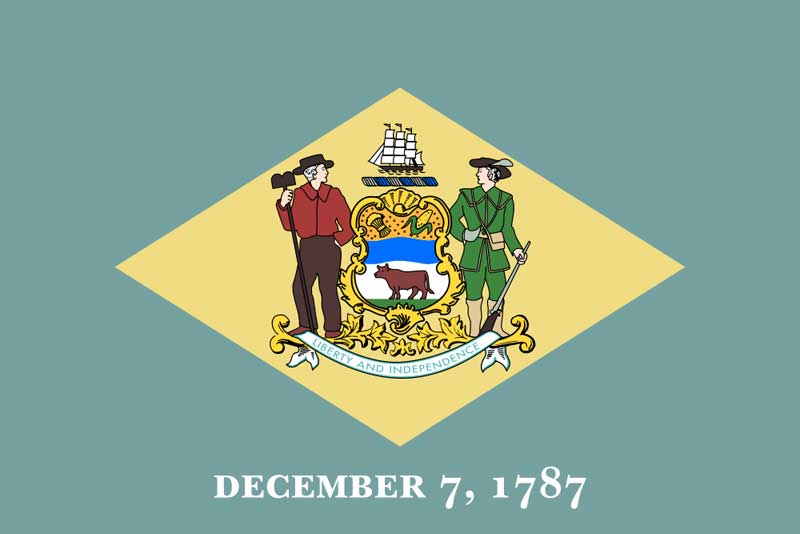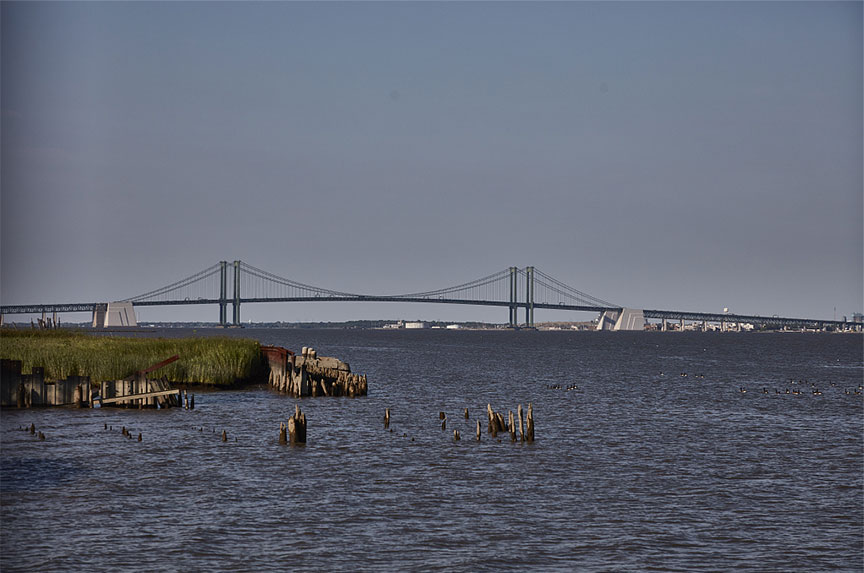 Basic Information
Postal Abbreviation: DE
Natives: Delawarean

Population. 2020: 989,948
Legal Driving Age: 18
(16 w/ Driver's Ed.)
Age of Majority: 18
Median Age: 36
State Song: "Our Delaware"
Lyrics: George: B. Hynson
Music: Will M.S. Brown
Median Household Income:$63,068

Capital..... Dover
Entered Union..... Dec. 7, 1787 (1st)
Present Constitution Adopted: 1897
Nickname: First State
Diamond State
Small Wonder

Motto:
"Liberty and Independence"
Origin of Name:
Named after Sir Thomas West, Lord De La Warr, first colonial governor of Virginia.
Delaware Economy
AGRICULTURE: chickens, corn,
eggs, fruit, soybeans, vegetables.
MINING: magnesium compounds,
sand and gravel.
MANUFACTURING: chemicals,
electronics, instruments, paper
products, plastics.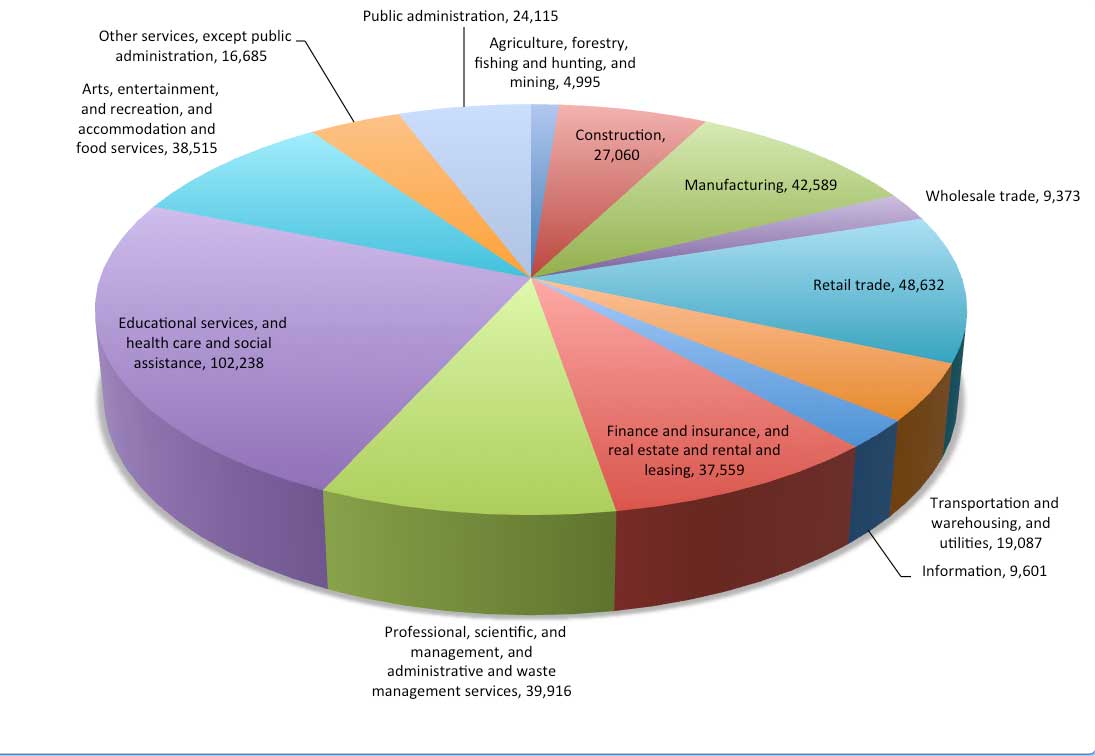 ---
Delaware Geography
Total Area: 2,489 sq. miles
Land area: 1,955 sq. miles
Water Area: 535 sq. miles
Geographic Center: Kent County
11 mi. S of Dover
Highest Point: Ebright Road
New Castle County (442 ft.)
Lowest Point: Atlantic Ocean
(sea level)
Highest Recorded Temp.: 110˚ F (7/21/1930)
Lowest Recorded Temp.: -17˚ F (1/17/1893)
With the exception of the Northwest corner of the state (which is hilly), Delaware is extremely flat with fertile land very suitable for farming. The Atlantic coast of the state has dune covered beaches.
Cities
Wilmington, 70,851;
Dover, 36,047;
Newark, 31,454;
Middletown, 18,871
Smyrna, 10,023
Milford, 9,559
Seaford, 6,928
Georgetown, 6,422
Elsmere, 6,131
New Castle, 5,285
Delaware History
1638 Peter Minuit established the first permanent white settlement in Delaware
called New Sweden.
1655 Peter Stuyvesant captures New Sweden claiming it for Holland.
1735 Quakers settle in Delaware.
1777 The Battle of Brandywine is fought and lost by the General Washington
troops.
1787 Delaware became the first state to ratify the Constitution.
1800 The Duponts migrate from France to Delaware and establish a gunpowder
plant.
1861-65 During the Civil War Delaware does not secede from the Union.
1951 Delaware Memorial Bridge opens.
2000- Ruth Ann Miner becomes the first woman governor of the state
Famous People

John Dickinson
E.I. du Pont
Thomas Garret
Henry Heimlich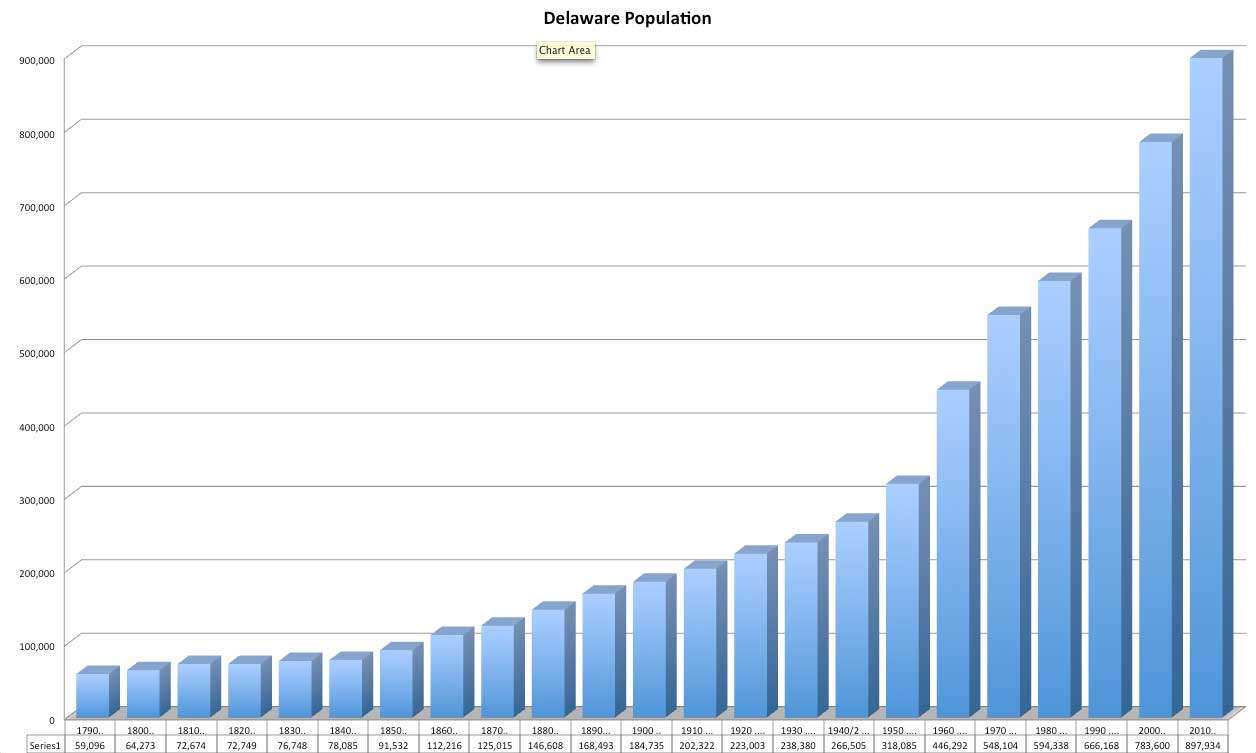 Delaware National Sites
1) Fort Christina
Fort Christina (later renamed Fort Altena; Swedish: Fort Kristina) was the first Swedish settlement in North America and the principal settlement of the New Sweden colony. Built in 1638 and named after Queen Christina of Sweden, it was located approximately 1 mi (1.6 km) east of the present downtown Wilmington, Delaware, at the confluence of the Brandywine Creek and the Christina River, approximately 2 mi (3 km) upstream from the mouth of the Christina on the Delaware River..
2) Holy Trinity Church
The church was built in 1698–99 in the Swedish colony of New Sweden from local blue granite and Swedish bricks that had been used as ship's ballast. The church was situated on the site of the Fort Christina's burial ground, which dates to 1638. It is claimed that it is "the nation's oldest church building still standing as originally built". There are reportedly over 15,000 burials in the churchyard. Lutheran Church services were held in the Swedish language well into the 18th century.[4]
3) New Castle Historic District
New Castle was originally settled by the Dutch West India Company in 1651, under the leadership of Peter Stuyvesant, on the site of a former aboriginal village, "Tomakonck" ("Place of the Beaver"), to assert their claim to the area based on a prior agreement with the aboriginal inhabitants of the area. The Dutch originally named the settlement Fort Casimir, but this was changed to Fort Trinity (Swedish: Trefaldighet) following its seizure by the colony of New Sweden on Trinity Sunday, 1654