Ft Washington Captured- Washington Retreats Through N. J.-1776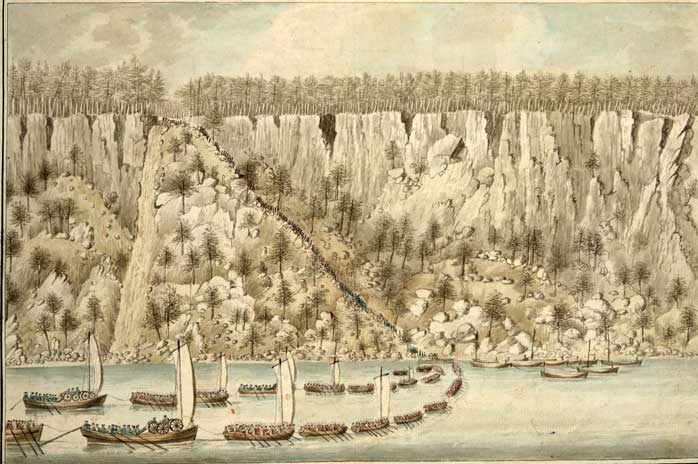 The British captured Fort Washington on Northern Manhattan Island on November 16, 1776, without much difficulty. Washington proceeded into New Jersey. He was pursued by Howe all the way south until he successfully crossed the Delaware River.
.
The Americans tried to block the British from using the Hudson River by building two forts. The first fort was built in Washington Heights, which is the highest point in Manhattan. The second fort was built in Lee, New Jersey. The second fort became known as Ft. Lee. To their dismay, having these two forts were unable to stop British ships from traversing the Hudson below them. Washington was forced to first move his army off of Manhattan and then to retreat to NJ. After his defeat in White Plains, General Washington gave serious consideration to abandoning Ft. Washington. Though, the forts commander, Colonel Robert Magaw, as well as the American commander in the area, General Nathaniel Greene, recommended that the fort be retained. Magaw and Greene believed that it would very difficult for the British to capture the fort Washington.
Washington was not able to make a final decision on whether to withdraw the troops. However, on November 16th that decision was taken from Washington, when the British troop attacked the Americans at dawn. American troops created a defensive line outside the fort, where the majority of American troops were deployed. The Americans fought hard, but the 13,000 British troops overwhelmed the 3,000 US defenders. A total of 149 Americans werer killed or wounded in the attack. The British lost 458 soldiers, who were either killed, wounded, or missing in action. At the end of the first stage of the battle, the British brought up cannons and offered the Americans the option of surrendering. Magaw felt he had no choice, but to surrender. As a result, 2,870 Americans became prisoners of war.
The British quickly conquered Ft. Lee. The Americans abandoned the Ft. Lee without a fight. They left despite the fort's prime location (on the top of the Palisades cliffs) and the fact that Ft. Lee was filled precious arms that were not evacuated.
Then, Washington's army began a headlong retreat through New Jersey. It took the army 16 days until it had travelled through all of New Jersey. When they reached the Delaware River they crossed that as well. The American army was disheartened. The Americans were forced to give up New York City and all of New Jersey. However, the army was still intact. General Howe failed in his pursuit to stop the American army before it could reach safety.