Bunker Hill 1775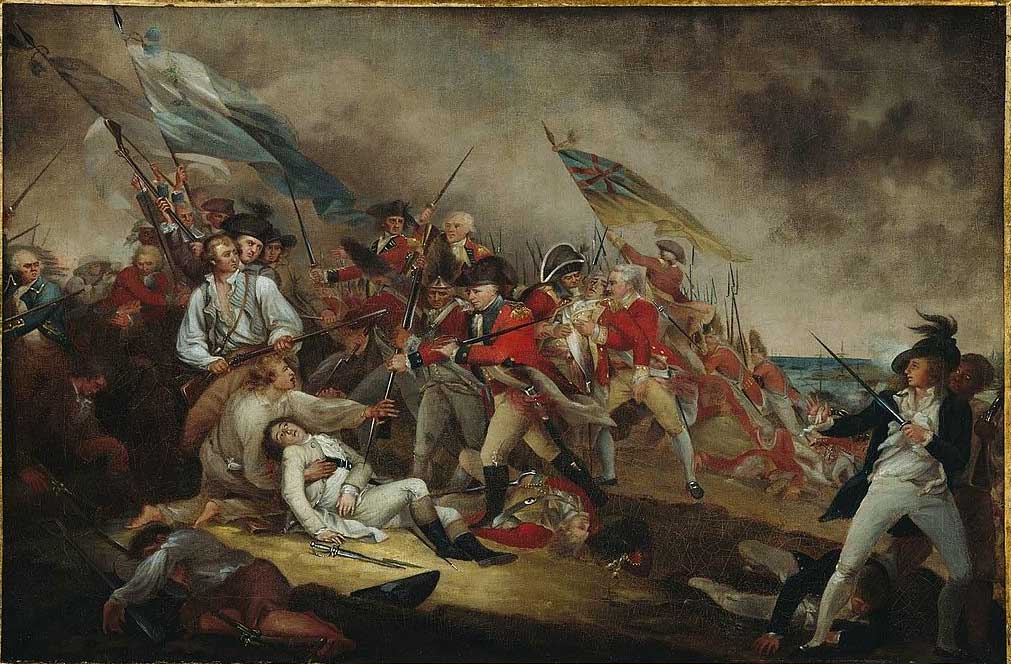 The Americans occupied Bunker Hill overlooking Boston on the evening of June 16th. The British, commanded by General Gage, had no choice but to attack the Americans. On the afternoon of the 17th, Gage's forces attacked. In a hard fought battle, the American were forced to withdraw. While the British were victorious, they suffered heavy losses. The battle shocked the British who were expecting an easy victory.
.
After the battles of Lexington and Concord, the Army of New England, and the British Army faced one another in Boston. The New England Militia had surrounded Boston, while the British army occupied the city. Neither the New England Militia, nor the British forces occupied Dorchester Heights or Bunker Hill, both of which had clear strategic importance. General Gage ordered the occupation of the Heights beginning June 16th. Word of Gage's plans reached the Colonists. The Colonists decided to act first. On the evening of June 16th, Colonel William Prescott acted on orders of General Artemas Ward. Prescott led two Massachusetts regiments, his own artillery company, plus a large work detail out of Cambridge to occupy Bunker Hill.
Colonel Prescott was an experienced soldier, having fought in two British wars. Despite being 49 years old, Prescott was in good shape. Prescott arrived in Charelston Neck with nearly 1,200 soldiers. He met up with Colonel Putman, whose additional 250 Connecticut volunteers joined them.
Once in Charleston Neck, the Americans decided to dig in and fortify Breed Hill. American troops worked through the night to fortify their position. With first light, British ships at anchor in the harbor noticed the American forces on the hills and began firing. General Gage ordered an attack on the American forces.