Inauguration of President Washington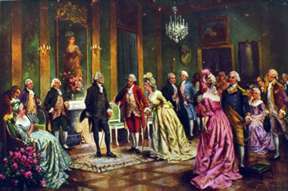 Washington became the first President of the United States, after being unanimously elected by the members of the Electoral College. The newly-elected President took part in what became a triumphal procession from Mt. Vernon to New York, the temporary capital of the United States. On April 30th, on a crowded balcony overlooking Wall Street, President Washington took his oath of office.
| | |
| --- | --- |
| | The outgoing Congress of the Confederation set the first Wednesday in January for choosing presidential electors. Despite his reluctance to serve as President, Washington was the overwhelming choice of the electors. On April 16th, Washington left Mt Vernon, Virginia, for a triumphal journey toNew York City to assume the Presidency. He was given a civic dinner in Alexandria, Virginia. After he crossed the Potomac, he was given the honors of the city of Baltimore. In Wilmington, Delaware, he was again honored. He was met at the Pennsylvania line and escorted into Philadelphia by the state's governor. |
| | |
| --- | --- |
| Two triumphal arches had been prepared at the southern entrance of the city, and a parade was held in Washington's honor. | |
It was then on to Trenton, New Jersey, for another celebration. On April 23, Washington reached Elizabethtown, New Jersey, where a barge awaited him with thirteen master pilots in white uniforms. New York Harbor was filled with decorated boats honoring the general. The shore was packed with people; and as Washington's barge arrived at Murray's Wharf, the city celebrated as volleys of cannon fire were released and the bands struck up music.

On April 30th, Washington took the oath of office on a balcony of the Federal Hall. The oath was given by Chancellor Robert Livingston, Chief Justice of New York. Washington then returned inside to read his inaugural address to Congress.
<!––blank ––>