1817 Seminole War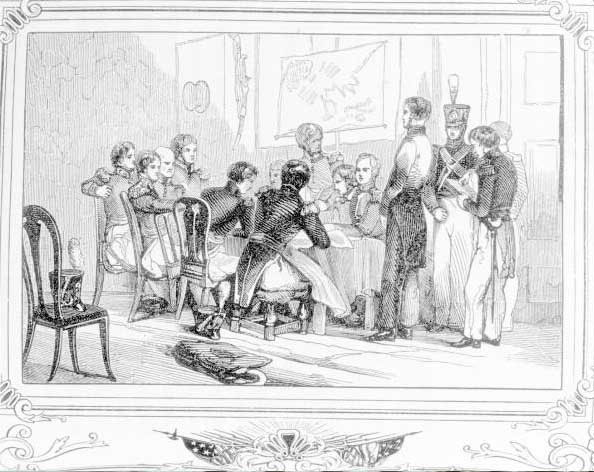 The trial of Ambrister during the Seminole War
The Seminole War was a result of the joint activities between the Seminole Indians and fugitive slaves who frequently raided settlements in Georgia. General Andrew Jackson was sent to bring the Indians under control; a task which he successfully completed, even though he caused a storm by exceeding his authority.
---
The United States had ongoing designs on Florida. Florida was controlled by the Spanish and their control disrupted the development of the Southeastern states. President Jefferson had tried to acquire Florida through secret diplomacy, but failed. Florida had become a haven for escaped slaves and other refugees. This was a continued source of friction along the Florida border. On November 17, 1817, the Creek Village of Fowlton, on the Georgian side of the border, was burned down by US troops. Two weeks later, those made homeless by the army, retaliated and attacked a boat carrying 40 soldiers. All but four of the soldiers were killed and one woman was captured. This began the First Seminole War.
When word reached Washington of the attack, * Secretary of War John C Calhoun issued orders to General Gaines to demand satisfactory reparations from the Seminoles. He was, however, given specific orders not to attack Spanish forts. Soon his orders were changed to attack Anelia Island that was being used by smugglers. He quickly accomplished this. General Andrew Jackson was not put in charge of the confrontation with the Seminoles. One of the mysteries of American history now takes place. President Monroe sent a letter to Jackson stating: "Great interests are at issue, and until our course is carried through triumphantly and every species of danger to which it is exposed is settled on the most solid foundations, you ought not withdraw your active support of it."  At the same time, Monroe sent a different letter that explicitly instructed Jackson not to attack the Spanish forts. This letter was never delivered to Jackson. The most likely explanation of these conflicting events was that the Monroe administration wanted to unleash Jackson in such a way it could deny that it had been ordered by the government.
Jackson proceeded south with 1,000 soldiers. By the time he arrived in Florida his ranks had swollen to 3,000 white soldiers and 2,000 Indian volunteers. In Florida, Jackson went ahead and seized one of the main Spanish forts in Florida. Jackson's forces then seized two British citizens and accused them of helping the Seminoles. He probably had them executed. Jackson ran a vigorous campaign against runaway slaves in Florida, and left * his Indian allies to fight against the Seminoles. Jackson headed to Pensacola when he heard that the Seminoles were gathering in that location.  He demanded that the Spanish evacuate their capital, which they had no choice to do. He sent the Spanish governor by boat to Havana.
Many members of Monroe's Cabinet wished to censure Jackson for exceeding his authority. Ultimately, Secretary of State John Quincy Adams convinced the Cabinet that what Jackson had done was justified and had worked to the advantage of the United States.
This did not stop the Congress from investigating the actions in Florida. Henry Clay introduced four resolutions into Congress- 1. Disapprobation of the trial and execution of the two Englishman 2- Requirement that the President approve any military executions. 3. An expression of disapproval of the seizure of the Spanish forts 4. A law that would prohibit US troops from entering foreign soil unless they are in hot pursuit without the explicit approval of Congress. The last item was the first time in what would become a long history of attempts of Congress to limit the war making abilities of the President. Clay stated:
"Beware how you give a fatal sanction, in this infant period of our republic. Scarcely yet two score years old, in military insubordination.  Remember that Greece had their Alexander, Rome her Caesar, England her Cromwell, France her Bonaparte, and that if we would escape the rock on which they split, we must avoid their errors."
Congress rejected all three motions.
---