JFK the Hero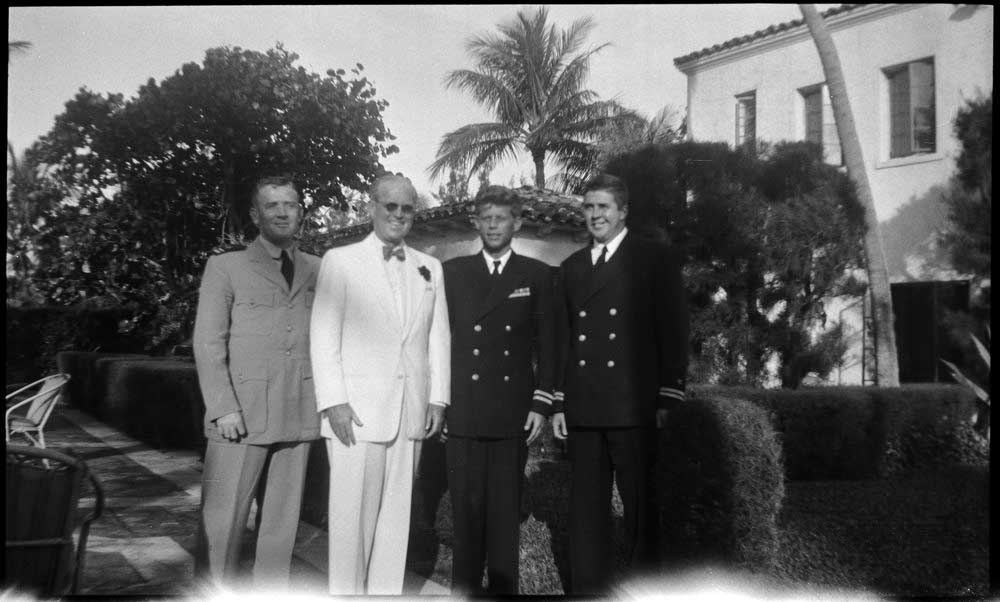 After being rescued with the crew of PT-109, Lieutenant Kennedy returned to active duty and commanded PT-59 for a short time. On November 18th, he relinquished his command. The rigors of PT command had further damaged his weak back. He may have also contracted malaria. Jack was given medical leave, and eventually a medical discharge. During this period, his brother, Joe Jr., died, when his plane exploded over the English Channel. Thus, as JFK recuperated from his own war experiences, he became the eldest son destined to carry out his father's dreams.
---
After his rescue, Lieutenant Kennedy, now a bonafide war hero, was reassigned to a different PT boat, PT€" 59. This boat was converted from a torpedo-carrying vessel to a gunboat. Its mission was to intercept and sink Japanese barges supplying Japanese-held islands in the Solomons. 
The refitting of PT€"59 was completed on October 7th. From the 18th of October until the 18th of November, Jack commanded PT€"59 as it went on patrol. Only once did the boat go into action, sinking three Japanese barges.
On November 18th, 1943, Jack relinquished command of the gunboat, on the direction of the base doctor. X-rays showed Jack had developed chronic back disease. Jack may also have had malaria. He was given immediate medical leave and then served, briefly in a non-demanding job. It soon became clear, however, that Jack's back problems were more severe than originally believed. In June of 1944, he was in the hospital again, where he underwent major back surgery. 
While in the hospital, Jack received a Navy medal for bravery. In England, his sister Kathleen married William " Billy" Cavendish, Marquess of Hartington, who was the son of the Duke of Devonshire. Kathleen's wedding did not receive her parents' blessing (Kathleen's new husband was an Anglican.) A few months later, Cavendish died in combat. (Kathleen herself would die in a plane crash in 1948.)
Four months after Kathleen's wedding, tragedy struck the Kennedy family. The eldest Kennedy son, Joseph, Jr., was killed in action in Europe. Joe, Jr. had been piloting a specially modified plane, filled with explosives when the aircraft exploded in flight. Jack's grief over the loss of his brother was channeled into the writing of his second book, We Remember Joe. 
The death of Joe, Jr. was a blow to the whole Kennedy family, but it seemed to affect Joe, Sr. most deeply. He had had great plans for his eldest son. Joe, Jr. was to be the politician in the family and those plans were now shattered. As the now eldest son, Jack was to be charged with the responsibility to carry out his father's dreams and plans. 
Much has been written and said about how Jack was, in effect, merely a surrogate for his dead brother. Though this was probably true for their father, it was Jack who had shown a greater interest in and affinity for public affairs. Joe, Jr. had been involved in the " America First" movement, attempting to keep America out of the war. Jack had written a bestseller that decried the mistakes made by Britain in the years leading up to the war. Jack was the one who had toured Europe extensively as war loomed and it was Jack who had become a celebrated war hero.
Now in 1945 with the end of the war in site, with Joe, Jr. dead, and Jack now a civilian, it was time to decide what he was going to do with his life. Jack worked for the Hearst publishing organization for a while. As a special correspondent, Jack covered the San Francisco Conference founding the United Nations. He filed 30 stories from San Francisco and also covered the elections in Great Britain that unseated Churchill. He even attended the tail end of the Potsdam Conference in Germany. Jack's columns, always featuring his photograph, were well-received and were regarded as quite insightful. He traveled through Europe with Secretary of the Navy, James Forrestal, who wanted Jack to work for him. The trip allowed Jack to see, firsthand, the level of destruction that World War II had wrought on Europe.