Senator John F Kennedy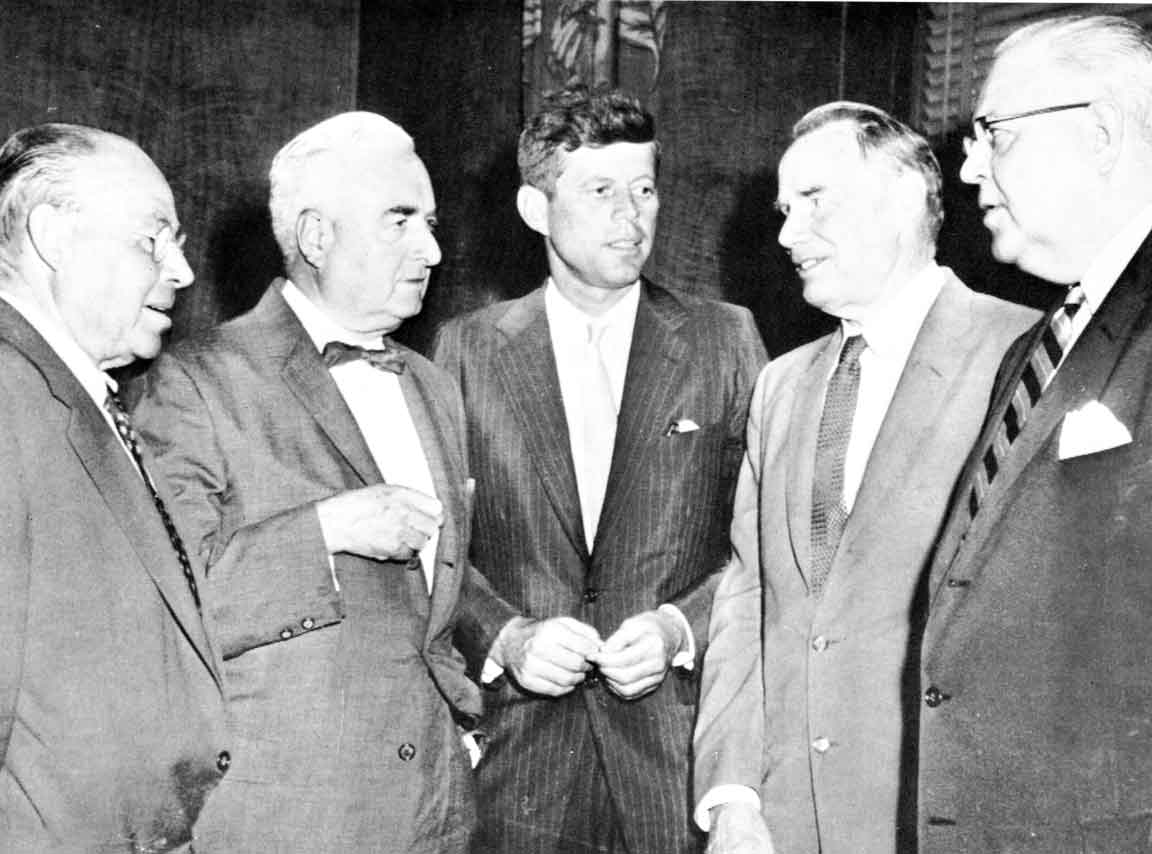 In 1952, Congressman Kennedy decided to run for the Senate. He ran a well financed and well staffed campaign. He challenged Henry Cabot Lodge Jr., the Republican candidate for the job. Kennedy for Senate canvassed the state and made particular efforts to outreach to those segments of the population that were suspicious of him. His well run campaign succeeded and John F. Kennedy was elected to the Senate..
---
As 1952 approached, Congressman Kennedy had to decide which higher office he wished to seek: Governor or Senator. He was concerned there would be little he could accomplish as Governor. For Kennedy, the deciding factor was his lifelong interest in foreign affairs, an area in which he felt he could have meaningful influence as Senator. Kennedy's only concern was the potential for a primary challenge from Governor Paul Dever. But when Dever eventually announced he was running for re-election, the path appeared open for Kennedy to run for the Senate.    
Kennedy's opponent in the Senate race was Henry Cabot Lodge, Jr. : the incumbent Senator from Massachusetts. The battle was long and hard. Jack's brother, Bobby, was persuaded to become his campaign director. By all accounts, Bobby was a very effective organizer but he was not the only family member who supported Jack's bid for the Senate. The entire Kennedy family was engaged in his campaign. Kennedy's father's staff helped from behind the scenes and Kennedy, Sr. bankrolled much of the operation. Allegedly, Joe Kennedy purchased an endorsement for his son from The Boston Post through a $500,000 " loan" to the paper in 1952. The newspaper had been in desperate financial straits. There is no proof, however, of any quid pro quo, but the paper did endorse Congressman Kennedy's Senate bid, two weeks before the elections.
It was the legacy of his father, however, that often provided the greatest difficulties for Kennedy in the campaign. His father's affinity for Senator McCarthy (coupled with Congressman Kennedy's non-denunciation of the Senator) were problematic for the Massachusetts academic community, as well as for the Jewish community. Kennedy's problems with the Jewish community were exacerbated by his father's reputation for anti-Semitism. Kennedy went to great pains to satisfy both groups. Kennedy had been a strong supporter of Israel in Congress, as well as an opponent of restrictive immigration legislation, also strongly opposed by the Jewish community. He also made it clear that he opposed much of what McCarthy had done. In the one face-to-face debate of the campaign, Kennedy easily bested Henry Cabot Lodge, Jr. and went on to beat Lodge by more than 70,000 votes out of a total of 2,353,231 votes cast (a margin of 51.5 percent to 48.5 percent). Dwight Eisenhower beat Adlai Stevenson in the Presidential race, by 208,800 votes in Massachusetts that same year.