Congressman John F Kennedy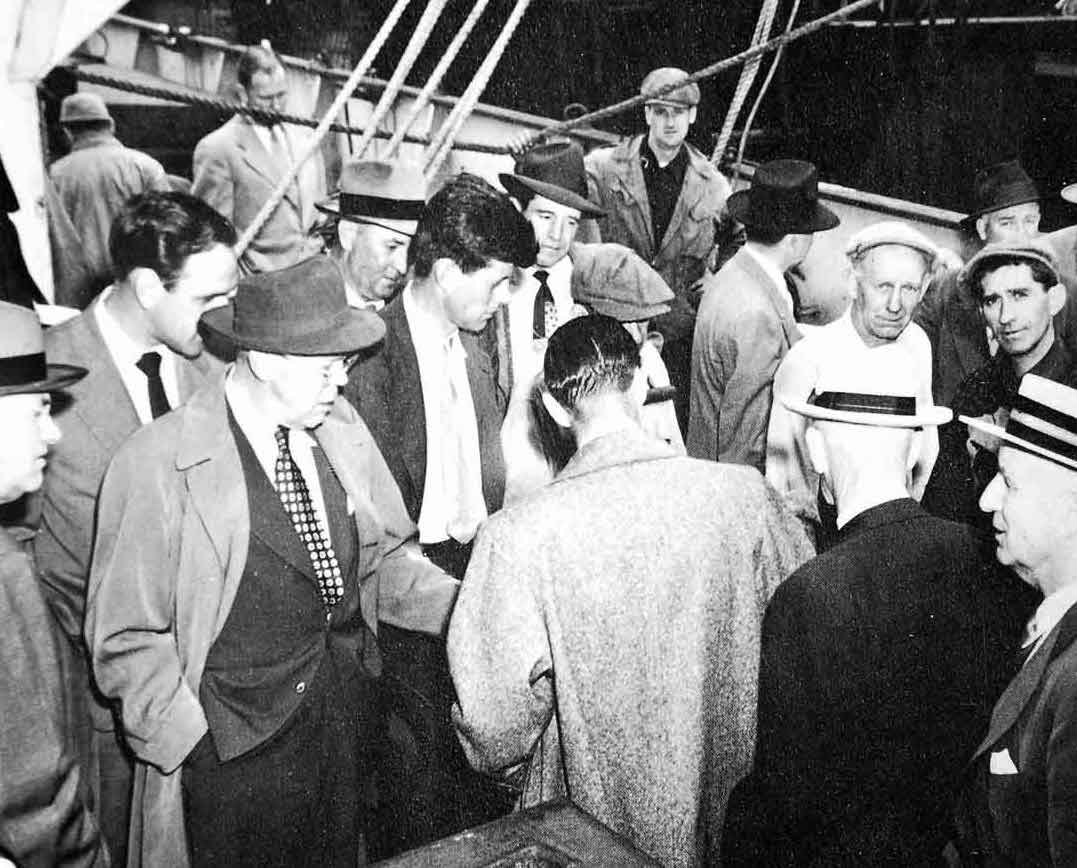 President Kennedy's great-grand parents emigrated from Ireland to the US in the mid-19th century. Both the President's grandfathers enjoyed distinguished political careers. His paternal grandfather was a state senator and a behind-the-scenes's political operator. His maternal grandfather was a Congressman and Mayor of Boston. President Kennedy's parents, Rose Fitzgerald and Joseph Kennedy, were born into very comfortable homes, and their upbringing reflected that security. They both lived in large houses, with servants, and both went to excellent schools. Joseph began a successful career in banking and Rose worked closely with her father, as he served as the Mayor of Boston. They were married in 1914.
---
President Kennedy's great-grand parents emigrated from Ireland to the US in the mid-19th century. His paternal great-grandfather, Patrick Kennedy, arrived in East Boston from Ireland in the 1840s, as a result of the devastating potato famines that decimated the population. Patrick married Bridget Murphy and had three children before he died. 
Kennedy's maternal great-grandfather was Thomas Fitzgerald, who arrived in Massachusetts in 1854. Fitzgerald first settled in Acton, before moving to Boston, where he owned a grocery store that doubled as a tavern. Kennedy's grandfather, Patrick Joseph Kennedy, was born in 1858, the same year his father died of cholera. Patrick began working at the docks, as soon as he was old enough to earn money for his family. He was able to save money enabling him to open a series of bars. Patrick Kennedy was a popular figure around Boston, and soon entered politics. First, he become a representative in the Massachusetts Lower House, and then in the State Senate. 
Patrick Kennedy remained a powerful Boston politician throughout his life, holding various political appointments. In 1887, he married Mary Augusta Hickey, from an established Boson-based Irish family. They had one son Joseph Patrick and two daughters, all of whom were brought up in relative wealth.
Jack's maternal grandfather, John F. Fitzgerald, was in born in 1863, the fourth of 12 children. Fitzgerald was accepted into the prestigious Boston Latin School, where he excelled. Fitzgerald went on to Boston College, where he earned a degree. He entered Harvard Medical School, but abandoned his studies when his father died. Fitzgerald became active in politics, both behind the scenes, and as secretary to Matthew Kearny, one of the Democratic Party bosses. Fitzgerald eventually became a City Councilman and was later elected to Congress, where he served for three terms. He did not run for a fourth Congressional term, but instead prepared himself to run for Mayor of Boston, which he became in 1905. In 1889 he had married Mary Joseph Hannon, his second cousin. They had six children, the oldest Rose Elizabeth, was President Kennedy's mother.
Rose Kennedy was born in 1890. She lived a very comfortable life, moving first from Boston to West Concord when she was seven and then to the upscale suburb of Dorchester. She went to good schools including the elite Catholic school, the Convent of the Sacred Heart. Following graduation, Rose was sent on a two-year trip to Europe, which was followed by another year at the Convent of the Sacred Heart. At that point, with her father re-elected to the Mayoralty of Boston, she became her father's hostess and helper. At the age of 20, she had a coming-out party, attended by 450 of the leaders of the Boston community. The next step was marriage.
Joseph Kennedy, President Kennedy's father, was born in 1888. He was always an ambitious boy. At age 15, he organized a semi-professional baseball team. He went to Boston Latin, where as an Irish Catholic he was in the distinct minority. Joe excelled both academically and at sports, becoming the captain of the baseball team. He won the Mayor's Cup, for being the high school student with the highest average in the state. Joe then went on to Harvard University. While at Harvard, Joe launched his first successful business venture, buying a tour bus operator for $600 and turning a $10,000 profit after two summers of operation.
After graduating Harvard, Joe decided to go into banking. After a short stint at Columbia Trust , where his father was a large share-owner, Joe became a state banking examiner. When Columbia Trust was threatened in a takeover by a larger bank, he successfully led the counterattack and saved the bank's independence. In the process, he became the bank's President. In his three years as the bank's president, Joe established himself as one of the country's up-and-coming young businessmen.
Joe Kennedy and Rose Fitzgerald first met and fell in love in the summer of 1906. At that point, her father did not think Joe was a suitable suitor for his daughter's hand. However, the couple was determined to marry and in October 1914, after a four month formal engagement, the two were wed.