Israel Vaccinates Its Population Rapidly
January 12th began like another ordinary day, in the seemingly endless string of COVID-19 days. Yet another day, we were unable to invite guests home, get a haircut, or see children and young grandchildren who are 6,000 miles away, whom we have not seen in over a year. But January 12 was not just another day. It was the day I would receive my second vaccination against COVID-19. I was privileged to be one of the first non-medical workers in Israel to receive the second dose of the vaccine, and among the first million in the world. 
As I headed out to the Maccabi vaccine distribution center, I felt a sense of anticipation; a feeling that finally, science and reason might be winning the day. My designated vaccination center was a distance from my home, so I rented a nearby Bird (scooter), my preferred method of traversing Tel Aviv, (especially during a pandemic, during which I have not set foot on public transit). The route to the vaccine took me through one of my favorites parks along the Yarkon River, and then past Tel Aviv's main convention center; the same center I frequently visited to attend high-tech conferences. I could not help but think back to one of the last times I visited the center, which was the dress rehearsal of the 2018 Eurovision song competition. Now it, and convention centers worldwide lay empty, with exception to those converted into Coronavirus testing centers.
I arrived at the vaccination center a little early for my appointment and swiped my Maccabi (HMO) card. The HMO's computer printed a number, and I waited. No more than 5 minutes later, my number was called. I approached the nurse, an Arab-Israeli man. I rolled up my sleeve, and in a moment, it was over. I sat down in a comfortable chair, waited the prescribed 15 minutes, and left. All-in-all, I was in and out in less than 30 minutes.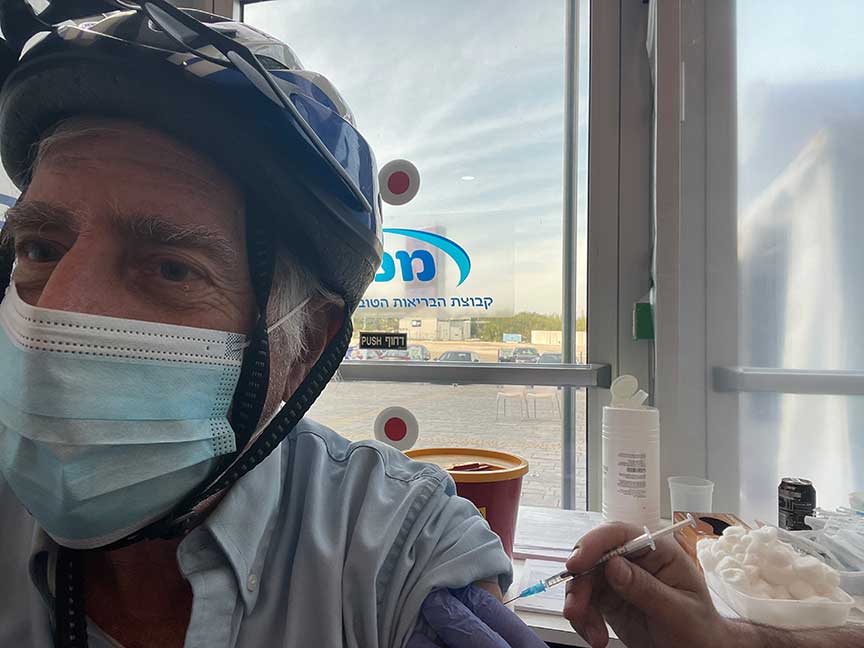 Over the past 3 weeks  over 1.8 million Israelis have been vaccinated. Before I was immunized, people I know expressed reservations about the vaccine. However, just three weeks later, everyone in my age group (I am in my mid-sixties) has  recieved the first dose in the coming days. My wife, who is slightly under the initial cut-off age of 60, but has a mild pre-existing condition, received a text from our HMO offering her the vaccine. She too has received her first vaccination
The world wonders what's the secret to Israel's extraordinary success in vaccinating the population, to date. This accomplishment is particularly remarkable when you consider the government's failure to develop a coherent policy to contain COVID-19.
The answer to Israel's sweeping success with the COVID-19 vaccination campaign is threefold. First, acquiring vaccines played to Prime Minister Benjamin Netanyahu's strengths. No one, including Israel's opposition, has ever questioned Netanyahu's mastery of one-on-one relationships, or his ability to cultivate personal connections. As opposed to other world leaders, Netanyahu stepped up to speak to the vaccine manufacturers' highest management personally and developed individual relationships with them. The Prime Minister's conversations bore fruit, and Pfizer shipped a significant number of vaccines to Israel, even though Israel had not been one of the first countries to sign up for their vaccine. (Israel placed its initial order with Moderna.) 
While Netanyahu's persuasion power may be strong, was not the only reason Israel received so many vaccines. Part of the reason is no doubt that Israel agreed to pay more for each vaccine. However, considering the worldwide revenue the COVID-19 vaccine will bring Pfizer, the additional funds were probably only a cover for agreeing to the sale. In reality, Israel's capability to quickly vaccinate its population was an incentive to the manufacturer to sell as many doses as quickly as it has. This is due to Israel's unique hybrid medical system —a National Health plan with competition built-in, in which every Israeli is enrolled.
As opposed to many countries, where there is one national health plan and one provider, Israel has four HMOs that compete with each other over patients and doctors, thus forcing them to be agile and innovative. All four HMOs have been computerized for over 20 years, making patient records are easily accessible. All patients are connected to their HMO by e-mail, text message, and apps. Therefore, each HMO is easily equipped to reach out to all its members above age 60, as well as those with dangerous pre-existing conditions, and set up an appointment for vaccination. 
Our HMOs all have the trained medical staff to man centers and administer large numbers of vaccinations. The Israeli system provides a significant side benefit for the vaccine manufacturers, i.e., HMOs can easily monitor all patients after vaccination; record the appearance of any side effects; keep track of how many develop the virus, even after being vaccinated; and know everything else about each patient. The Israeli medical system is poised to provide the perfect follow-up trial for these vaccines, deployed in record time. That system has bared fruit. Last Friday, Netanyahu convinced Pfizer's CEO to send Israel enough vaccines over the next three months to vaccinate the rest of the population. His argument Israel was the perfect testbed to show the vaccine's effectiveness and correlate any problems with a preexisting condition or other factors. Israel pledged to share anonymized data with Pfizer as well as the World Health Organization. 
This brings me to the final reason for Israel's success in the race to vaccinate its population. When the COVID-19 vaccines first began to arrive, there was the concern people would be afraid to be inoculated. Fake news about the dangers of the vaccine had reached and been circulated throughout Israel, as has been the case in other parts of the world. However, the concern Israelis would be reluctant to be vaccinated turned out to be unfounded. The truth has been just the opposite. Israel's HMOs have been overwhelmed with requests for vaccines. 
While Israel was officially only vaccinating those over 60( as of January 12th -50+), health care workers, and people with chronic illness, it is also unwilling to waste a single dose. So, at the end of the day, if a clinic has leftover doses, it gladly vaccinates others who request to be vaccinated. Facebook groups have been started to alert users which centers might have excess amounts towards the end of each day.
Israel is optimistic that despite its current rise in COVID cases (mostly driven by Israel's open schools), its vaccination efforts can come close to ending the pandemic here by March. That is without question what Netanyahu is betting on since his election campaign will undoubtedly be centered on celebrating his ability to procure vaccines — i.e., "Only he can." 
Israel expects to inoculate 150,000 new people a day while at the same time giving the second vaccine to nearly as many. As of Tuesday, it will start vaccinating everyone under 55 and all teachers in the country.
At the same time, Israel is experiencing one of its worst COVID-19 outbreaks of the year — with over 9,000 new cases a day. The hospitals are currently holding the largest number of critical care Covid cases since the epidemic began. This latest outbreak is a direct result of the poor management of this crisis by Netanyahu and his government. That being said, the end of the pandemic in Israel is clearly in sight, thanks in small part to Netanyahu's swift and successful acquisition of vaccines. Will the voters blame Netanyahu for his crisis management or be thankful for his purchase of the vaccines when they go to the polls on March 23rd. The answer to that question will determine who wins Israel's next election.