12/03/18 Netanyahu's Difficult DAy
Sunday, the day Jews prepared for the start of Chanukah, was not a very good day for Prime Minister Benjamin Netanyahu. First, police recommended Netanyahu be indicted in a third corruption case (so called Case 4000). Second, the Supreme Court only gave the Prime Minister until mid-January to pass a law regarding military service of ultra-Orthodox — a task many consider impossible, thereby guaranteeing the new elections Netanyahu has recently tried so hard to delay, will likely happen this May.
Although expected, the police announcement hit Israel like a tornado. The reason for the intense reaction was that these latest allegations are easy to understand, and police claim to have 61 witnesses (including two state's witnesses, who both agreed to plead guilty in return for laxer sentences).
The police stated:
"The main suspicion was that the prime minister accepted bribes and acted out of a conflict of interest, intervening in the making of regulatory decisions that favor Shaul Elovitch and the Bezeq Group; while at the same time, demanding both directly and indirectly, to interfere with the content [published on] the Walla! News site in a manner that would benefit him."
Walla! is the largest Israeli online news site, similar to yahoo.com in its heyday.
The key disclosure in the Police announcement was that Netanyahu intervened on behalf of Bezeq, asserting he demanded action be taken on his behalf. This police declaration sets up a direct quid pro quo for bribery, while maintaining Netanyahu did not act only through intermediaries, but did so directly, himself.
Police also recommended indictment of Sara Netanyahu, the Prime Minister's wife, who was directly involved in the communications with Shaul Elovitch, Iris Elovitch and Ilan Yeshua, CEO of the Walla! News site. Additional people whom the police recommended for indictment include the CEO of Bezeq and the Elovitch's son, Or.
Police are said to possess recordings, as well as key witnesses, including Shlomo Filber, who Netanyahu is accused of placing in charge of the Communication Ministry to do his bidding relating to Bezeq, and who is now a state's witness.
This announcement was made on the final day of current police commissioner, Roni Alsheikh's term. Alsheikh, a man hand-picked by Netanyahu to serve as top cop, surprised the Prime Minister by giving his full backing to those conducting the Netanyahu investigation. As a result, Netanyahu refused to extend Alsheikh's term for the customary fourth year.
Netanyahu responded to these latest allegations in an address to Likud members, timed to be broadcasted in the middle of the evening news programs. In a fiery speech, Netanyahu claimed the charges against him were "baseless" and "cooked up" by the police. He insisted there was nothing wrong with what he did. He maintained that under his leadership Bezeq was forced to reform, at the expense of losing a great deal of money. Netanyahu went on to add: "I don't know who the next police commissioner will be, but I do know one thing. He'll have some serious restoration work to do, because, how should I say this, the public's trust in the police is not at an all-time high."
Case 4000 is the third case regarding which police have recommended Netanyahu be indicted. The first recommendation for indictment was Case 1000, in which Netanyahu has been accused of accepting gifts valued at over $250,000 from various wealthy individuals, for some of whom he did favors in return. The second recommendation was issued concerning Case 2000, which revolves around a deal to receive positive coverage in Yedioth Achronot, in return for Sheldon Adelson's Yisrael Hayom discontinuing publication of its Friday edition, thus making Yedioth more profitable.
Case 4000 is the most dangerous case for Netanyahu, since it involves large sums of money. While Netanyahu will try to show Bezeq did not benefit from his actions, many Israelis distinctly remember his 2014 campaign promise that everyone in Israel would have access to fiber-to-the-home within a few years. Instead, Israel's internet access has continuously fallen behind the rest of the developed world. Thanks to some of the regulatory decisions made on its behalf, Bezeq, who laid fiber on most streets throughout the country has decided to leave its fiber offline.
Now, the police recommendations are being transferred to the State's Prosecutor for review and merger with the other two cases, before passing them to Attorney General Avichai Mandelblit to render the final decision. Mandelblit has stated he will acts quickly as possible. A determination is expected sometime next year.
Many questions remain. While the opposition called for Netanyahu's immediate resignation, it's not at all clear if and how the mounting evidence of these alleged allegations would impact the next election. Netanyahu supporters echo his words, calling police accusations either "fake news" or "a conspiracy by the left-wing to oust him". Moreover, if Netanyahu is indeed indicted, will he step down? Or will he claim the people still want him and try to remain in office until he is convicted?
On Sunday night, former Prime Minister Ehud Barak released a scathing video calling on Netanyahu to resign. Barak reminded Netanyahu of his own words when former Prime Minister Olmert was under investigation, expressing "There was a real threat the Prime Minister would make a decision based on his own interest and not those of the nation."
Barak ended his video with — "for God's sake, Bibi, go!"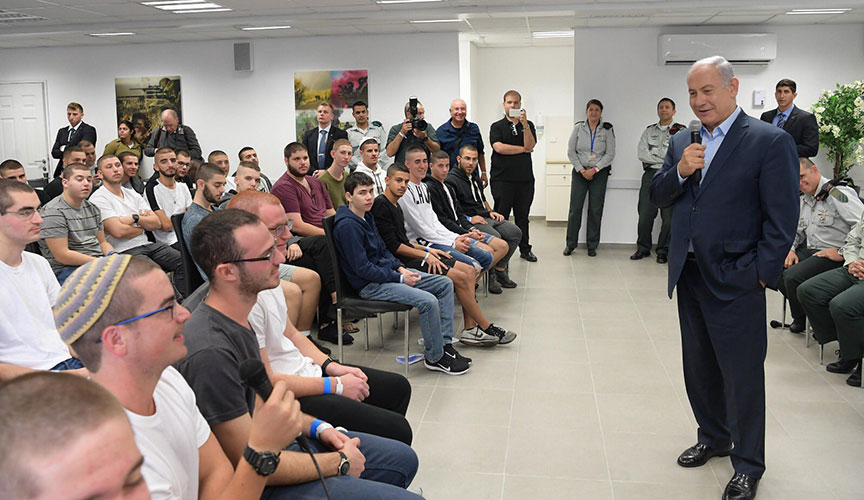 Netanyahu with newly drafted tank soldiers