10/22/18 American Jews and Israel -The Future
For the first time in history, the Jewish Federations of North America are holding their annual conference in Tel Aviv. For the last several decades the Federations have met in Israel every fifth year. However, this year is the first time the Federation's General Assembly (or GA) has taken place in Tel Aviv, instead of Jerusalem. Despite Jerusalem just receiving US recognition as Israel's capital this year, the GA decided to convene its assembly in what is Israel's economic, cultural and technology capital.
The GA's 2018 conference theme is "We Need to Talk," a reflection of challenges faced by the partnership between Israel and American Jewry during the last two years; challenges that are in part a function of profound shifts, which impact the relationship between Israel and Diaspora Jewry.
Last year, North American Jewish Federations transferred $113.4 million to Israel, a sum that is considerably less than the $200 million American Jews gifted Israel in 1948 (in absolute dollars). To put these donations into better perspective, Israeli startups raised over $5 billion last year. Once upon a time, the Jewish business leaders of Tel Aviv would have been thrilled for a chance to welcome wealthy American Jewish leaders, to lean on their expertise and connections in order to expand their enterprises. Today, with 360 of the largest companies on earth maintaining facilities in Israel, such meetings are superfluous. Once upon a time, GA attendees would include the richest of American Jewry. However, Mark Zuckerberg, Michael Bloomberg, Sergei Brin and others are not among the attendees of the GA today.
Through its UJA (United Jewish Appeal) division, the Federated world once organized their efforts around the theme of raising money for the "poor Israeli cousins." Today, there are many Israelis cousins who are wealthier than a many of their American counterparts.
There are also profound political differences between American Jews and Israelis. According to the Pew Research Center, the United States led by President Donald J. Trump, is viewed favorably by 83% of Israelis (the highest number in the world, matched only by the Philippines)— a statistic which mirrors the favorable rating Trump himself received from Israelis. In contrast, only 25% of American Jews give Trump a positive job approval score.
American Jews overwhelmingly support a two-state solution to the Israel-Palestinian conflict; while a bare plurality of Israelis currently share that view. Moreover, American Jews who overwhelmingly affiliate with either the Reform or the Conservative movement have been profoundly disappointed by the failure of the Israeli government to keep its promise to implement an agreement to create a non-Orthodox, egalitarian prayer space at the Western Wall; while most Israelis barely see the lack of pluralistic prayer options at the Western wall as a significant issue … and the list of differences goes on …
There are some in the American Jewish community who even believe the current government of Israel prefers to seek support from the more like-minded, conservative Evangelical Christian community, rather than nurturing connections with more liberal American Jews.
No one conference can provide sufficient time, resources and opportunities to successfully bridge such robust differences — and any expectation that a conference whose theme is titled: "We Need to Talk" can actually discuss and debate all of the dissimilarity into full understanding and agreement is overly optimistic, to say the least. Nevertheless, the relationship between Israel and American Jews is too important to allow these problems to fester without being seriously addressed.
Despite all of the favorable economic statistics cited above, and regardless of Israel's military strength, the governments of Israel have historically counted on World Jewry — and particularly American Jewry — as their secret reserve, i.e., the ones who will always be there to support the country in time of need, as they have done since the early Zionist days.
For World Jewry, Israel serves as the dynamic center of renewed Jewish life, where they can visit, send their children to study — and yes, if times get rough (in any part of the world), Israel is a safe haven where Jews can move, if need be.
The changing nature of the relationship between Israel and American Jewry, and the political gulfs that have developed between the communities endanger the traditional and very symbiotic relationship. If that relationship is to survive and prosper, it will require a renewed multi-year approach to finding ways to bridge the gap between the communities — to both understand each other better and find joint goals and projects to rebuild fraying bonds — before it is too late.
Rhetoric will not be enough. Instead, new approaches need to be found not only to keep those who already engaged in the relationship, but to find a way to engage a whole new generation growing up both in the US and in Israel, with very different experiences and values.
President Reuven "Rubi" Rivlin spoke at the opening of the Assembly and called for an update to the famous Blaustein—Ben-Gurion Agreement of 1951, which defined Israel's relations with American Jewry as "deep mutual responsibility and non interference". He called for creation of joint projects between American Jewry and Israel to help other peoples in the world — an interesting suggestion and a good beginning.
It is easy to keep doing what one has been doing for generations. However, the fundamentals have changed and now the time has come to throw out the play book and redefine a new relationship, and responses that reflects our very different time.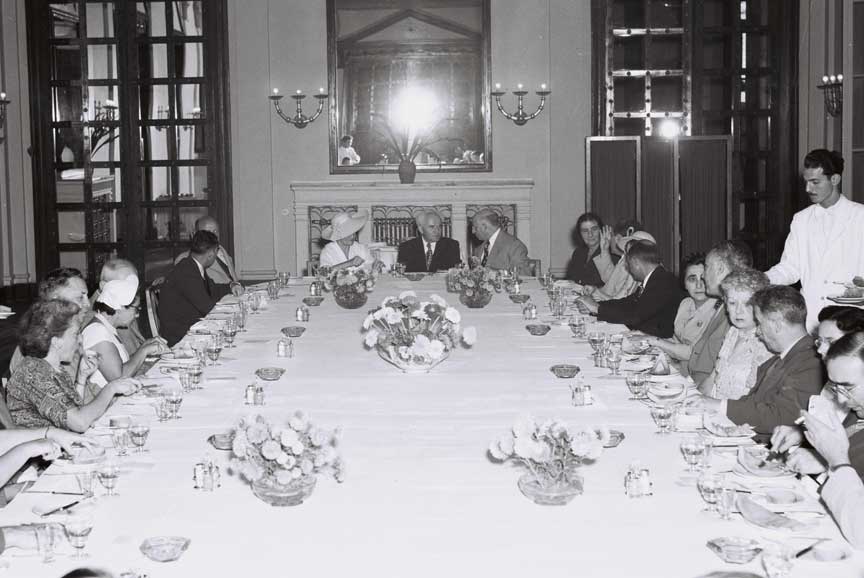 Ben Gurion and Blaustein