7/10/2017 Avi Gabbay the New Leader of the Labor party
The news from Tel Aviv tonight reveals the surprise victory of Avi Gabbay becoming the new leader of Israel's Labor Party. Gabbay won the run-off round of the Labor primaries, beating long-time labor leader and former Defense Minister MK Amir Peretz 52% to 48%. Last week, Peretz and Gabbay came in number one and two, respectively, in a larger field of candidates that included incumbent Labor leader MK Yitzhak "Bougie" Herzog, who was decisively defeated.
This time, members of Israel's Labor Party elected a complete outsider, who only recently joined the Labor Party, having served as Minister of Environment in the Likud government, after founding the Kulanu Party, with MK Moshe Kachlon. Gabbay resigned, following Avigdor Lieberman's joining the government to become Defense Minister, a position Gabbay felt Lieberman should not have been offered. Gabbay said at the time: "I see the recent political moves and the replacement of the Defense Minister as grave acts that ignore what's important to national security. I cannot be partner to this line of action."
Gabbay was born to immigrants from Morocco, the seventh of eight children. He served in the Army Intelligence Corp and received an MBA degree from Hebrew University. Gabbay went on to become the CEO of Bezeq, Israel's largest telecommunication company. His background makes him an unlikely leader for the Labor party which with one or two exceptions has either elected long time members or former generals to be its leader.
The election of Gabbay continues a worldwide trend, in which voters seem to be embracing the outsiders. Many here in Israel have been comparing Gabbay to France's newly minted Prime Minister, Emmanuel Macron — i.e. two outsiders who each gained control. Members of the Labor party who voted on behalf of Gabbay were clearly aware of the trend and are hoping that by bringing in an outsider, who has shown that his principals are more important than holding on to his position in the party, will change the perception of the Labor party among voters. The Labor party, which garnered 25 seats in the current parliament, was until lately polling around 10 seats; if election were to be held now. Of course, the comparison only goes so far. Since Macron founded a new party and Gabbay has to take over an existing, fractured party, however, Gabbay's victory has certainly given a psychological shot in the arm to all those who oppose the current government.
The second big story from Israel is mostly unrelated and yet somewhat connected. This morning, police arrested six people in what is known as "Case 3000" (the accusation that bribes were involved in the recent purchase by Israel of submarines from Germany.) Those arrested include: high-ranking defense officials, former acting head of the National Security Council under Prime Minister Netanyahu and a lawyer who has also acted as Netanyahu's private attorney and is his cousin. The case involves allegations that the German shipyard, named ThyssenKrupp, may have bribed high-ranking officials to induce Israel to order additional subs and other ships. While Netanyahu himself is not under investigation in this case at the moment, the fact that Netanyahu was an avid supporter of the purchase, while his Defense Secretary at the time – Moshe "Bougie" Ya'alon – opposed the purchase, has raised suspicions. It should be noted that after Ya'alon was fired the new Defense Minister Avigdor Lieberman went ahead with the purchase. The six who were arrested today are being accused of bribery, money laundering and income tax violations.
How is this tied to the Labor party elections? This pair of items is connected in two ways. First, while at this moment Netanyahu is not being investigated in this case (in contrast to the two two others cases in which he is being investigated), this case has the potential to be the largest and most important corruption case in Israel's history. Large sums of money are involved and Israel's most sacred cow – i.e., defense of the country – is what might have been hurt. Second, there is another angle yet to develop. Many of those arrested and others being investigated were prime supporters of the agreement Israel signed to export much of the natural gas found off its coast. Gabbay, in his role as Minister of Environment, was one the leading opponents of the deal. Ironically, on the day that many of these supporters of exporting Israeli gas resources were arrested, Gabbay was elected to head the main opposition party. Time will tell whether he will succeed in galvanizing the opponents of the Netanyahu government into becoming an effective opposition force and potential replacement for the current government after the next election.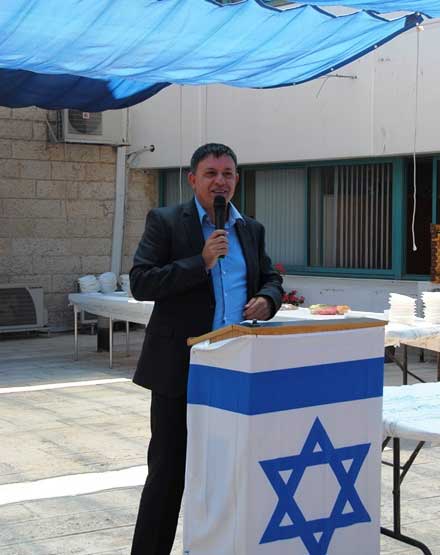 Avi Gabbay