London Subway Bombings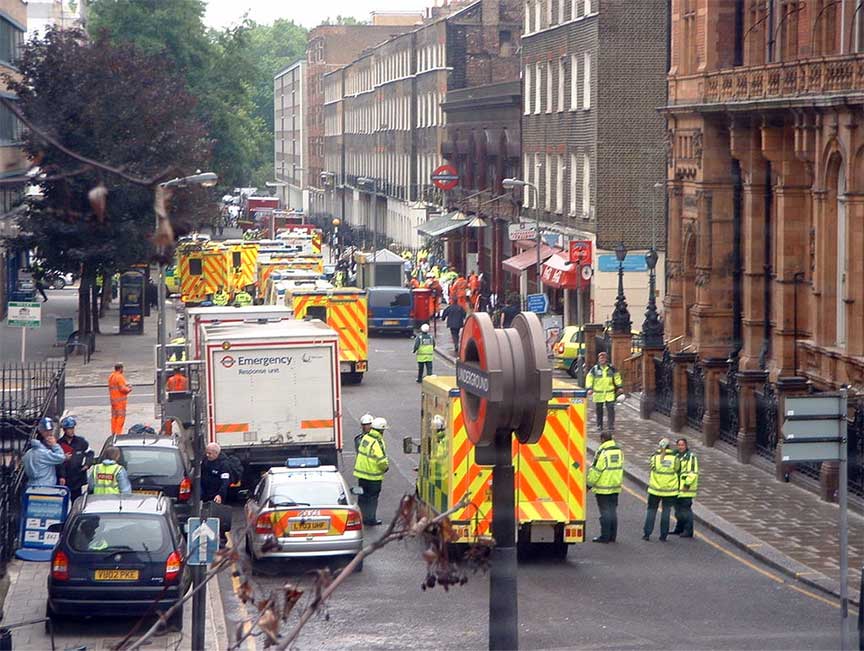 Ambulances at Underground Station

On 8:49 AM July 7th 2005 in the midst of the morning rush hour three bombs exploded on the London subways. Fifty minutes later a bomb went off on a double deck bus. 52 people including 32 UK residents were killed. Three different groups associated with Al Queda claimed responsibility for the bombing. The bombing came on the same day that the G-8 the leaders of the 8 largest economies in the world were meeting in Scotland.
---
Three bombs detonated almost simultaneously in the London Underground on July 7th, 2005. The first bomb went off on a subway train traveling between Liverpool Street and Aldgate. The second bomb went off in a subway train that had just left the platform in Edgware Road Station, and the third bomb went off in a subway train running between King's Cross and Russel Square.
Less than an hour after the bombs went off at 9:47 AM in the subway, a bomb went off on the top deck of a double-decker bus as it traveling in Tavistock Square. The bomb destroyed the rear portion of the bus.
A total of 52 victims were killed in the bomb blasts. Thirty-two of the victim were British, the rest from a variety of countries throughout the world.
The bombing was the world of suicide bombers. Three of whom were born to Pakistani immigrants and the third a convert to Islam born in Jamaica. In their videotaped statements, the attackers claimed they were carrying out the bombing to protect other Muslims killed by the West.