Civil War Breaks Out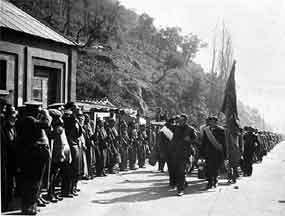 The Spanish Army, led by General Franco with support from the Catholic church and the Monarchists, began a revolt against the democratic government of Spain. The revolt was opposed by government Loyalists and civil war broke out.
In reality, the war became a surrogate war for the European Fascists, with Germany and Italy giving open aid to the Spanish Fascists and the Soviet Union aiding the Loyalists. The rest of Europe followed a policy of neutrality, denying the legitimate government of Spain the arms it needed to defend itself.