1909 Gunboat at Agadir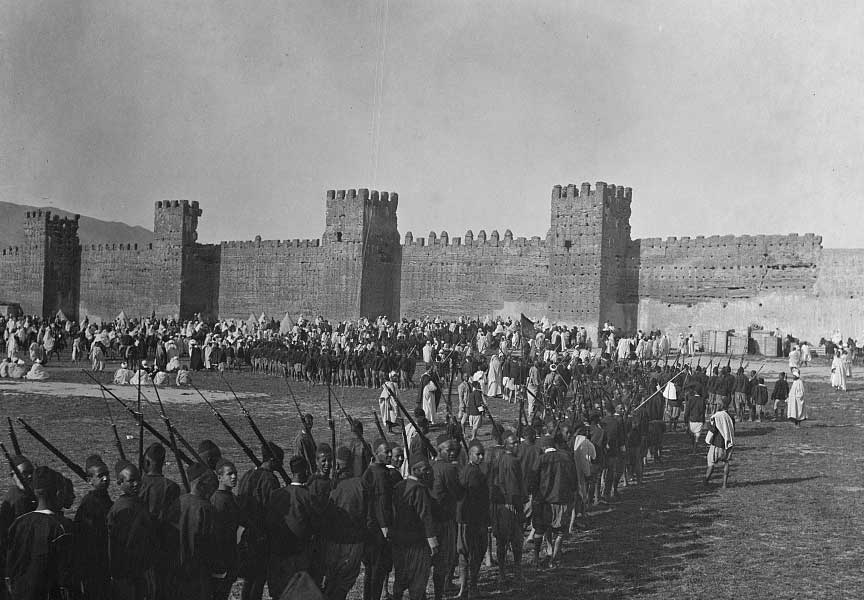 Fezz
When a revolt broke out against the Sultan, Abdelhafid of Morocco, the French sent troops to aid him. The Germans resented the French activity and sent a German gunboat to Agadir. The German demanded French concessions in Africa in return for their support of the French actions in Morocco.
---
Under the terms of the Algeciras Conference of 1906, Morocco gained de facto control over Morocco. The SultanSultan could not make any international agreements without the approval of the French. When an uprising began against Berber tribesman against Morocco's SultanSultan Abledhafid, the French felt compelled to defend him.
If not for the support of a small contingent of French troops in Fez the capital, the palace would have been overrun in April. The French sent 3,000 troops from Casablanca. The soldier needed to fight their way into Fez. They arrived there on May 22, and the Berbers were temporarily driven off. However, the Berbers soon attacked Fez again. To defeat them, the French sent 4,000 more troops to defend the Sultan.
At the same time, the Spanish occupied the town of Larche.
The Germans had long desired a port on the Atlantic side of Morocco. They took advantage of the crisis and sent the gunboat Panther to the port of Agadir. They claimed that the boat was there to protect German citizens there. The Panther was replaced by the more significant German ship the Berlin. The Germans did not come ashore but stated that their vessels would leave Agadir when peace was restored to all of Morocco. The French were furious. The German actions were clear violations of the previous agreements.
The French government asked the British to support their position, which the British did, demanding the German removal of the German warships. The German demanded parts of coastal Congo in return for their withdrawal from the Port of Agadir. For a short period, it began to look like war was likely between Germany and France. However, the French and Germans agreed on November 11, under the terms of the Franco-German Accord of 1911 signed the Germans recognized the exclusive rights of the French in Morocco in return they were given Neukamerun, which was landlocked 106,000 sq miles in what I now the Republic of the Congo.
While the Agadir Crisis ended peacefully, it was one more step along the road that eventually led to World War I. It also strengthened the developing British French Alliance.