Donald Trump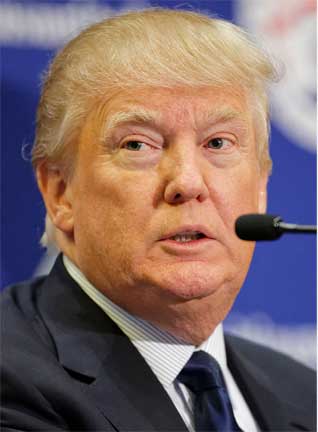 President Trump lost the popular vote but one the electoral vote in one of closest election in US history
, 2016
---
The Early Years
Donald Trump was born on June 14, 1946, in Queens New York. His Mother had been born in Scotland while his Father who was a real estate developer who was born in New York from parents who had immigrated from Germany. Trump went to a local elementary school but was sent to New York Military Academy for the end of 8th grade and high school. He went to Fordham University for two years and then transferred to Wharton Business school which had a Real Estate program. Trump received student deferments from the draft and then a medial deferment. Trump started working for his Fathers Real Estate company Elizabeth Trump and Son. He changed the name to the Trump Organization. The company primarily developed residential apartments. Trump first big success came in 1978 when he redeveloped the Commodore Hotel next to Grand Central Station to become the Hyatt . In 1983 he completed the building of Trump Tower on Fifth Avenue in New York. In 1984 Trump opened Harrah's Trump Plaza in New Jersey. At his peak Trump had three Atlantic City Casinos-all eventually went bankrupt. Trump transitioned his business from that of a developer more to that of a licensor who received royalties for attaching the Trump name to buildings. From 1995 until 2015 Trump owned part so the Miss Universe, Miss USA and Miss Teen USA beauty pageants. Trump also founded a Trump University a for profit school to teach student how to become real estate experts. After being elected President Trump settles a law suite for $25 million brought by students who said they were defrauded. Trump became the executive producer of the NBC show the Apprentice in 2003 and the show has continued on the air since then.
Trump considered running for the Presidency in 1988, 2004 and 2012 but did not enter the race. On June 16, 2015, Trump announced that he was running for President. He was not give much chance of either securing the Republican nomination against the other 17 candidates, and when he did winning the election. But he did. On January 20th, 2017 he became the 45th President of the United States.
Accomplishments in Office
The first three years of the presidency of Donald Trump have been tumultuous. Although Trump faced no major international crisis, his immediate staff and cabinet officials had a higher turn-over rate than any modern President. One of his first acts as Presidents was to resign from the trade deal that had been negotiated called the Trans-Pacific Partnership that had been designed to counter China. Trump made major changes in border enforcement making it harder to apply for refugee status and forcing those coming through the Southern border to wait on the Mexican side.
The Trump administration successfully increased the intensity of the attacks on ISIS bringing an end to territorial holdings. President Trump successful appointed two conservative judges to the Supreme Court as well as an unprecedented number of lower court judges. Trump also proposed and passed a large tax cut. That tax cut provided a significant reduction to large corporations and the most wealthy while only providing a modest reduction to the middle class. The result has been ballooning in the Federal deficit.
During the first two years of the Presidency, an investigation into the involvement of the Trump campaign with the Russian interference of the 2016 elections took place under the auspices of independent counsel Robert Mueller. Mueller did not find enough evidence to charge a conspiracy. He did find evidence of a cover-up but stated that a sitting President could not be charged.
Immediately after the Mueller report was released and Robert Mueller testified before Congress Trump allegedly pressured the government of Ukraine to investigate former Vice President Biden and his son, at the time the leading Democratic candidate to run against him in 2020. He did so by withholding aid. When a whistleblower reported the acts the Congress began investigating and that led to President Trump being impeached, but as of this writing not removed from office.
The First Family

.
Father: Fred Trump
Mother:Mary Ann Trump
Wife: Melania Trump ( current wife
Children: Donald Jr, Ivanka, Eric,Tiffany, and Barron
Cabinet
Department of State Secretary:Rex Tillerson, Mike Pompeo
Department of the Treasury:Steven Munchin
Department of Defense Secretary:Bill Gates, James Mattis, Mark Esper
Department of Justice Attorney General: Jeff Sessions, William Barr
Department of the Interior Secretary: Ryan Zinke, David Bernhardt
Department of Agriculture Secretary :Thomas J. Vilsack, Sonny Perdue
Department of Commerce Secretary:Wilbur Ross
Department of Labor Secretary: Andrew Puzder, Eugene Scalia
Department of Health and Human Services Secretary: Tom Price, Alex Azar
Department of Housing and Urban Development: Secretary Ben Carson
Department of Transportation Secretary: Elaine Chao
Department of Energy Secretary: Rick Perry, Dan Brouilletteee
Department of Education Secretary: Betsy DeVos
Department of Veterans Affairs Secretary: David Shulkin, Robert Wilkie
Department of Homeland Security Secretary: John Kelly, Chad Wolf