William Howard Taft
1857- 1930
U.S. President,
Chief Justice of the Supreme Court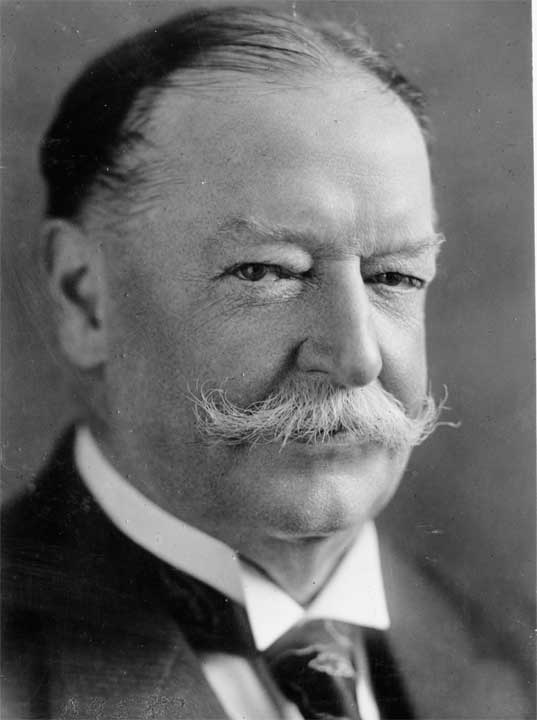 Statesman and jurist William Howard Taft was born in Cincinnati, Ohio. He went on to attend Yale University, where he graduated second in the class of 1878. Upon graduation, Taft returned to Cincinnati, where he attended law school. He was admitted to the bar in 1880.
In 1887, Taft was appointed Judge on the Cincinnati Superior Court. He served as US Solicitor General from 1890 to 1892, and then as Judge on the US Sixth Circuit Court. From 1896 to 1900, Taft was also a professor of law and then dean of the Cincinnati Law School.
In 1900, Taft was appointed Commissioner of the Philippines.
Taft became President after Theodore Roosevelt.
While agreeing with the overall policies of the Roosevelt administration, Taft felt that the power of the Presidency had been extended too far by the previous administration. Taft exerted his power to a much lesser degree. Often that was deemed by the progressive Roosevelt supporters as an abandonment of principles.
Taft was committed to lowering tariffs, and when elected, he called Congress into a special session to that end. Taft was an avid enforcer of the anti-trust policies of the Roosevelt Administration. He repeatedly instituted a number of anti-trust suits brought against monopolist corporations. During his term of office, two of the biggest monopolies, Standard Oil Company and the American Tobacco Company, were broken.
After his defeat in the election of 1912, Taft went on to become Chief Justice of the Supreme Court, a position he found more satisfying than the Presidency.