Eugene McCarthy
1916-2005
Politician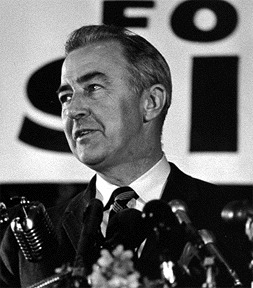 American politician Eugene McCarthy was born in Watkins, Minnesota, and later taught at the College of St. Thomas in St. Paul in his home state. He entered politics as a Democrat, serving five terms in the US House of Representatives between 1949 and 1959.

After becoming a Senator in 1959, he developed a reputation as a liberal, soft-spoken intellectual. In 1966, McCarthy articulated his opposition to President Johnson's policy in Vietnam. The next year, he became a candidate for the Democratic Presidential nomination, supporting a negotiated peace in Vietnam.
With the backing of large numbers of college students, McCarthy achieved great success in the early primaries, contributing to Johnson's decision to withdraw from the Presidential race in 1968.
McCarthy lost the nomination to Hubert Humphrey, retired from the Senate in 1971 and returned to teaching. Attempting to reenter politics, he ran independently for President in 1976 and ran in a Senate primary in 1982, but was unsuccessful in both attempts.