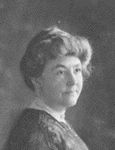 Ellen Louise Axson Wilson
1860-1914
Born: Savannah, GA
Married: Woodrow Wilson, 1885
Children: Margaret, Eleanor, Jessie
First Lady: 1913-1914

Ellen Wilson, daughter of a Presbyterian minister, married the future President Woodrow Wilson in 1885. Theirs was a truly romantic relationship; it was estimated that during the course of their nearly 30-year marriage, they exchanged 1,400 love notes. Among her many attributes, Ellen was a talented painter and sold many of her works for charity. She was an excellent hostess, although she felt that the First Lady's role should not only include entertaining official guests. Aside from being a devoted wife and mother, Ellen Wilson was interested in social reform. A member of her staff is reported to have said, "I think we have an angel in the White House." One of her chief concerns was the improvement of living conditions for the poor. As a major force for Congressional passage of slum clearance legislation, she made a tremendous contribution to the well-being of thousands of citizens. Unfortunately, by the time the bill was finally passed, Ellen Wilson was near death from Bright's disease. She died in the White House on August 6, 1914.