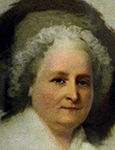 Martha Washington
1731-1802
Born: New Kent County, VA
Married: Daniel Parke Curtis - 1749; widowed 1757
Married: George Washington, 1759
Children: Jack, Patsy
First Lady: 1789-1797

Martha Washington was the wife of the the first President of the United States, serving as the nation's first "First Lady" from 1789 to 1797. She disliked the formal occasions at which she was the official hostess. After all, she was already a 58 year old grandmother when her husband became president; Martha Washington felt that the job was better suited to younger women.

Martha Dandridge had married young to much-older Daniel Parke Custis. Custis died after only eight years of marriage, leaving his wife with two young children. Martha Custis was a 25 year old widow when friends introduced her to then-Colonel George Washington. Though they had no children of their own, Washington adopted his wife's children, Jack and Patsy. After the death of Jack, the Washingtons adopted two of his children.

Both the President and the First Lady looked forward to their 'retirement' at the conclusion of Washington's two presidential terms. She is reported to have said that upon their return to Mount Vernon, they both felt "like children just released from school".