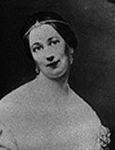 Helen Herron Taft
1861-1943
Born: Cincinati, OH
Married: William Taft, 1886
Children: Helen, Robert, Charles
First Lady: 1909-1913

Perhaps no other First Lady was as responsible for her husband's election to the nation's highest office as was Helen (Nellie) Herron Taft. Although her husband weighed 350 pounds, it was Helen who knew how to throw her weight around. William Howard Taft actually wanted to be a judge. But Mrs. Taft had had a taste of being a First Lady (when her husband was appointed Governor of the Philippines in 1900) and she liked it. Soon after, the President offered Taft an appointment to the Supreme Court, which Taft declined on the grounds that he felt he was still needed in the Philippines. In 1904, Roosevelt asked Taft to become Secretary of War. Nellie strongly encouraged her husband to accept the position. Fearing that the President would make another offer of a Supreme Court judgeship, Nellie apparently convinced Teddy Roosevelt that Taft should be his successor. Taft won the election and a proud Nellie broke precedent when she rode with her husband to the White House after the inauguration. She felt that the honor was rightfully hers since she had helped to make him president. Unfortunately, Nellie was felled by a stroke several months after moving into the White House. Her recovery was slow but steady and she was eventually able to start taking a more active role in her husband's presidential business. It was said that she was clearly eager for another term in the White House. But it was not to be. Taft was defeated in the election of 1912. One of Nellie Taft's most striking legacies was the importation of more than three thousand cherry trees to Washington D.C., a gift from the mayor of Tokyo. By the time the Tafts returned to Washington eight years later (when Taft took up his post as Chief Justice of the Supreme Court), the cherry trees were blooming. Helen Taft lived on another 13 years after her husband's death. She had truly achieved her dreams.