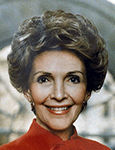 Anne Frances Robbins Davis Reagan
1923-2016
Born: New York, NY
Married: Ronald Wilson Reagan, 1952
Children: Patricia Ann, Ronald Prescott
First Lady: 1981-1989

As First Lady, Nancy Reagan was known for her elegance and style. Prior to marrying Ronald Reagan, Nancy Davis was a successful actress, appearing in eleven motion pictures. Nevertheless, she often said that her life really began when "I married the man I loved." Nancy Reagan became her husband's staunchest supporter as he rose from president of the Screen Actors Guild to President of the United States.
She was born Anne Frances Robbins in New York City. Her divorced mother was an actress who later married prominent neurosurgeon, Dr. Loyal Davis. Dr. Davis moved the family to Chicago and soon adopted young Nancy. She attended Smith College as a theatre major and went to New York following graduation. Eventually, well-connected friends of her mother helped Nancy launch her career. She soon won an MGM contract and was bound for Hollywood.