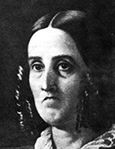 Sarah Childress Polk
Born: Murfreesboro, TN
Married: James K. Polk, 1824
Children: None
First Lady: 1845-1849

Sarah Polk was the first presidential wife who took on the additional job of presidential advisor. Although she always prefaced her political remarks with "Mr. Polk says," it was clear that she was a trusted advisor to the President. Her official role was as confidential secretary. She was well-suited to the job since she had long played an active part in her husband's political career. The Polks were pious, serious, and modest. They were known for witty political conversation. They did not dance, drink, or play card games. Their White House was known for its austerity, their gatherings for decorum. The Polks retired from the White House in 1849 and returned to their Nashville home, Polk Place. Unfortunately, James Polk died several months later. Sarah Polk believed that Polk Place "belonged to the nation" and so she opened it to the public. It is remembered that, aside from attending church, Sarah did not ever leave her home where she died in 1891.