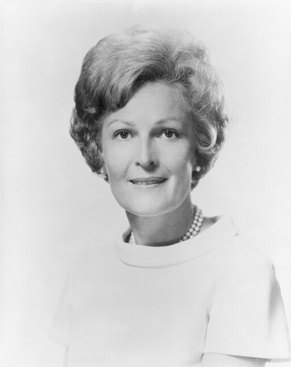 Thelma Catherine Ryan Nixon
1912-1993
Born: Ely, NV
Married: Richard Nixon, 1940
Children: Tricia, Julie
First Lady: 1969-1974

Thelma Catherine Patricia Ryan was the daughter of a humble Nevada copper miner. She was a reserved, dignified woman whose life experiences ranged from the depths of poverty to the heights of White House power. By the time she was a teenager, both of her parents had died. She finished high school and worked for two years to save enough money to put herself through college, graduating with honors from the University of Southern California. It was as a high school teacher that she met young lawyer, Richard Nixon. Both had joined the Whittier (California) theater group. For two years, Dick Nixon pursued the pretty teacher until she agreed to marry him in 1940.
During World War II, Nixon was on active duty in the Pacific while Pat worked for the Office of Price Administration in San Francisco. Shortly after the War's end, Nixon won a Congressional seat. He acquired the reputation of a ruthless and hard hitting politician. In 1952, he accepted the nomination as the Republican vice presidential candidate. During the Nixons' tenure as the nation's Second Couple, Pat Nixon assumed a relatively low profile. She raised her two daughters and was unfailingly supportive of her husband. His defeat in the 1960 presidential election was a crushing blow to Pat. When Nixon achieved the Presidency eight years later, she was clearly elated.
As First Lady, she quietly continued both the efforts of Jacqueline Kennedy's White House restoration project, and Lady Bird Johnson's beautification program. She was also responsible for making the Executive Mansion accessible to the disabled. Although she was often criticized for appearing cold and contained in public, Pat Nixon was known for her private warmth. She made a habit of greeting tourists visiting the White House and she signed nearly every piece of mail that went out on her behalf. Pat Nixon was not an activist First Lady in the style of Eleanor Roosevelt. But she strongly supported the cause of volunteerism, urging all Americans to work for the betterment of their communities. During President Nixon's first term, Pat visited thirty-nine of the fifty states. With her husband, she made historic trips to Africa, Communist China, and the U.S.S.R.
The Nixon White House came to be overshadowed by the Watergate scandal which would eventually lead to the President's resignation in 1974. Throughout it all, Pat Nixon never wavered in her support for the President. They lived quietly in retirement but all the public stresses had taken a private toll. She suffered a stroke in 1976 and her health was always fragile after that. When Patricia Nixon died in 1993, there was a public outpouring of sympathy for the woman who had devoted her life to her husband.