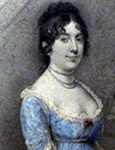 Dolly Payne Todd Madison
1768-1849
Born: Guilford County, NC
Married: John Todd, 1790; widowed 1793.
James Madison, 1794.
Children: John Payne, William
First Lady: 1809-1817

Dolly Madison became a world-famous hostess while First Lady from 1809-1817. With an unusual facility for names and faces, Dolly Madison charmed everyone. She set the standards that other American women tried to follow, particularly in the realm of fashion. Costly Parisian gowns, elaborate feathered turbans, snuff, and rouge became her trademarks.
Dolly Payne Todd was a twenty-six year old widow with two children when she met Madison, who was forty-three. (Her first husband had died of yellow fever after only three years of marriage). Although Dolly and James seemed an unlikely match, he soon became her second husband.
Dolly Madison's formidable social skills were a huge asset during the War of 1812 when she gave innumerable parties to keep up morale. But she is credited with an even more significant achievement. Immediately before the invading British burned the White House, Dolly saved the original draft of the Constitution and the Declaration of Independence, along with Stuart's portrait of George Washington.