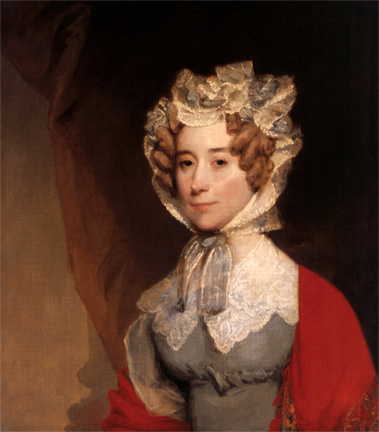 Louisa Catherine Johnson Adams
Born: London, England
Married: John Quincy Adams, 1797
Children: George Washington, John
First Lady: 1825-1829

Louisa Catherine Johnson was born and reared in Europe as the daughter of an American consul to England. She married John Quincy Adams in the same year his father became president, 1797. They had been introduced when Adams was sent to London by President Washington.
As part of his diplomatic duties, John Quincy Adams served as a diplomatic minister in several European locations. These included Prussia, Russia, and England. Although Louisa had enjoyed some of these foreign sojourns, she was miserable in Russia due to the harsh climate. While there, the Adamses also lost an infant daughter, one of their four children. Louisa had also been a charming and successful society hostess in Washington when Adams became Secretary of State under President Monroe. But by the time her husband became president, she was ailing and could no longer undertake the social duties expected of her.