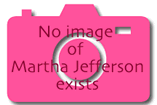 Martha Wayles Skelton Jefferson
1748-1782
Born: Charles City County, VA
Married: Bathurst Skelton,1766; widowed 1768.
Thomas Jefferson, 1772.
Children: Patsy, Janes, Mary, Lucy, Lucy Elizabeth
Martha Jefferson never actually was the First Lady.

Martha Jefferson did not live to see her husband assume the Presidency. Legend has it that her last wish was that her husband would never remarry. Whether or not the legend is true, the fact is that Jefferson was grief stricken at his wife's passing, refusing to leave his room for three weeks after her death. Jefferson later destroyed all his wife's letters and any other reminders of her. No portrait of Martha Jefferson is known to exist.
Martha Wayles was born in Virginia. At eighteen, she married Bathurst Skeleton and was widowed a mere two years later. Jefferson began courting "the fair one" in 1771 and married her a year later. By all accounts, the Jeffersons' marriage was a good one, in spite of the sorrows the couple faced. Thomas Jefferson was devoted to his delicate wife, curtailing many of his political activities to remain with her. Mrs. Jefferson's health had been totally broken as a result of seven difficult pregnancies in ten years. She had seen four of her six- live born children die in infancy. (Another child, born of her first marriage, also died in childhood.)
Only two daughters, Martha ("Patsy") and Mary ("Polly"), lived to see their father become President. In fact, Jefferson relied on these daughters to act as his White House hostesses. These young women received much guidance and support from Dolly Madison, then wife of Jefferson's Secretary of State.
Of his beloved wife Martha, Jefferson once wrote, "in every scheme of happiness she is placed in the foreground of the picture as the principal figure. Take that away, and there is no picture for me." Jefferson remained a widower for the rest of his life.