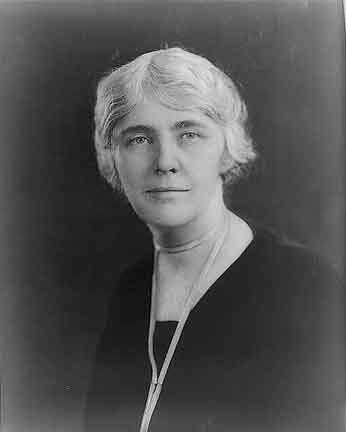 Lou Henry Hoover
1874-1944
Born: Warerloo, Iowa
Married: Herbert Clark Hoover, 1899
Children: Herbert Jr., Allan
First Lady: 1929-1933

Lou Henry was a brilliant student at Stanford University. As the only woman in the geology class, she certainly impressed Herbert Hoover, a fellow geology major. She was the first woman in America to earn a university degree in geology. After their marriage, the couple set off for China, where Herbert worked as a mining engineer. Later, they lived in England, Australia, New Zealand, Burma, and Russia. Among her other talents, Lou Hoover mastered Latin and, along with Herbert, translated a 16th-century text on metals into English.
During World War I, the Hoovers were acclaimed for their relief efforts on behalf of the Belgians. In 1919, Lou received the Cross of Chevalier, Order of Leopold from King Albert of Belgium. After their extended tenure abroad -- the Hoovers had spent three decades overseas-- they returned to the United States. Hoover began service as the Secretary of Commerce under Harding, while Lou founded the National Women's Athletic Association to encourage women's participation in sports. She was also involved with the women's rights movement, the League of Women Voters, the American Association of University Women, and the National Geographic Society. Lou Hoover was proud of the Girl Scout movement and served as national president of the organization.
Herbert Hoover had enjoyed success as Secretary of Commerce under both Harding and Coolidge. After Coolidge declined to run for re-election, Hoover won the Republican nomination in 1928. Lou Hoover was happy to become mistress of the White House and she set about planning extensive renovation, using the Hoovers' private funds (they were self-made millionaires.) She also began researching a complete history of the White House furnishings.
Unfortunately for this accomplished woman, the Stock Market Crash of 1929-- just over six months after the Hoovers moved into the White House-- plunged the country into the Depression and cast a pall over the Hoover Administration. For some reason, none of the sympathy and concern the Hoovers felt for their fellow Americans was perceived by the public. They were voted out of office in 1932. But Lou Hoover never abandoned the needy. During the Second World War, Lou worked on behalf of refugees, principally through the Salvation Army. At the request of the Queen of England, she also initiated a successful nation-wide campaign to collect clothing for English charities.
Lou Hoover died in 1944. In a final letter to her husband and sons, she wrote, "I am a lucky woman to have had my life's trail alongside the paths of three such men and boys."