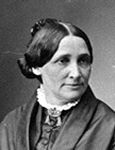 Lucy Hare Webb Hayes
1831-1889
Born: Chillicothe, OH
Married: Rutherford B. Hayes, 1852
Children: Richard, James, Rutherford,
Fanny, Joseph, Scott, Manning
First Lady: 1877-1881

Lucy Hayes was the first presidential wife who had earned a college diploma. She was a graduate of Wesleyan Women's College and maintained a life-long interest in women's educational concerns. Unlike the social butterfly, Julia Grant, Mrs. Hayes was a serious woman known for her honesty and integrity. She did not serve liquor in the White House, a decision which led to her being forever known as "Lemonade Lucy". She bore the sobriquet with good humor and her dislike of alcohol did not tarnish her image in any way. Her White House receptions were known to be memorable and she was particularly skillful at handling her 'evening gatherings' where she received anyone who chose to make an appearance. Lucy Hayes had many distinctive traits, among them being an excellent fisher and gardener. Her marriage was an extremely happy one and she bore her husband eight children (three of whom died before adulthood.) She and her husband left the White House at the conclusion of his term in 1881. Until her death eight years later, she remained actively interested in women's and children's issues and missionary work.