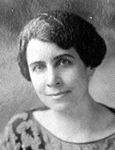 Grace Anna Goodhue Coolidge
1879-1957
Born: Burlington, VT
Married: Calvin Coolidge, 1905
Children: John, Calvin Jr.
First Lady: 1923-1929

Grace Coolidge came to the White House as First Lady following the death of Warren Harding. Although she was reportedly timid about assuming the responsibilities of a presidential wife, Grace Coolidge became a celebrated hostess. Known as a "champion smiler" she was the family conversationalist (a not unimportant quality considering the reputation of her husband, "silent Cal.") Grace was also a great baseball fan, a fact which further endeared her to the public. Known as a sensitive and kind woman who loved children, Grace had spent many years as a teacher of the handicapped. It was while she was working at the Clarke Institute for the Deaf that she met the taciturn Calvin Coolidge. Her warmth and outgoing nature proved a boon to Coolidge on the campaign trail since she loved meeting people.
Once in the White House, Grace believed that the First Lady had an obligation to work on social issues of the day. Education for the deaf was a major concern, along with child welfare. When the Coolidges' son, sixteen-year-old Calvin, Jr., died suddenly in 1924, the nation grieved along with the beloved First Lady.
In 1928, the President announced that he would not seek another term. Grace was as taken by surprise by the news as the rest of the nation. Calvin Coolidge died only four years after leaving the White House, but Grace lived till the age of seventy eight. She continued her interest in education for the deaf. She also supported the Girl Scouts, the Campfire Girls, the Association for the Aid of Crippled Children, and Christmas Seals. During the Second World War, the former First Lady was active in the Red Cross and other relief agencies. She is remembered as a true humanitarian whom Helen Keller called "responsive to every human need."