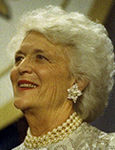 Barbara Bush
1925-2018
Born: Rye, NY
Married: George Bush
Children: George W., John, Neil, Jeb, Marvin, Dorothy
First Lady: 1989-1993

Barbara Bush enjoyed enormous popularity both as the Vice-President's wife and as First Lady. She once humorously described her image as "everyone's grandmother." Whatever the source of her appeal, Barbara Bush still tops many lists of Most-Admired Women.
Daughter of a prominent publisher, Barbara Pierce grew up in Rye, New York. She was a prep school student when introduced to young George Bush at a Christmas dance. Although she was only sixteen when they met, the couple became engaged the next summer. The romance was interrupted by World War II, but as soon as George finished his tour of duty with the Navy, they were married. Barbara Pierce had been attending Smith College, but she dropped out to get married.
Living in seventeen cities and twenty-nine homes, the Bushes embraced family life (they had six children, one of whom died in childhood of leukemia.) George pursued first a business and then a political career. Barbara was the devoted wife and mother. By the time the Bushes came to the White House, their family had grown to include many grandchildren.
As First Lady, Mrs. Bush made public service work for the benefit of children her priority. She was especially interested in literacy projects and called illiteracy the nation's "most important problem" which contributed to many other social ills. In retirement, Mrs. Bush finally has the time to enjoy her children and grandchildren as a private citizen.