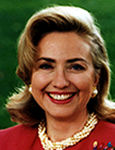 Hillary Rodham Clinton
1947-
Born: College Park, IL
Married: William Clinton, 1975
Children: Chelsea
First Lady: 1992-2001

Hillary Rodham Clinton is the first lawyer to become First Lady. She graduated from Wellesley College and Yale Law School and has held many prominent positions including Professor of Law at the University of Arkansas, activist for the Children's Defense Fund, and partner in a corporate law firm. She is also the mother of a teen-age daughter.
A Chicago native, Mrs. Clinton met her future husband in law school. After their marriage, the couple moved back to her husband's home state of Arkansas where Bill Clinton pursued a political career. As Governor, Clinton began to build the political base that would take him to the White House. His wife's lucrative legal career provided the bulk of the financial support for their family.
As a politically savvy and outspoken First Lady, Hillary Clinton has come under considerable attack for the controversial role she assumed in her husband's administration. One of her first acts was to establish her office in the West Wing of the White House, an unprecedented move for a First Lady. Later, she assumed the Chair of the Task Force on National Health Care Reform. She had the unenviable job of trying to provide a framework for comprehensive health care reform in the U.S. After a long and grueling effort, the Clinton reform proposals went down to defeat. In the time since, Mrs. Clinton has made a conscious effort to follow a more traditional First Lady's agenda while preserving the unique aspects of her partnership with the President. With her husbands Presidency coming to an end, Clinton began her own political career by running for the Senate from New York. She won that race and became a Senator in 2000. In 2008 she sought the democratic nomination for the Presidency but was defeated by Senator Barak Obama. President Obama asked Clinton to be his Secretary of State a job she did for Obama first term. In 2016 Clinton won the democratic nomination against Senator Bernie Sanders. Only to go on to lose the election against Donald Trump.