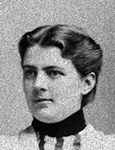 Francis Folsom Cleveland
1864-1947
Born: Buffalo, NY
Married: Grover Cleveland, 1886
Children: Ruth, Esther, Marion, Francis, Richard
First Lady: 1886-1889; 1893-1897

Frances Folsom married President Grover Cleveland when he was 49 and she almost 22. He was the first Chief Executive to be married in the White House. Frances had been made the ward of Grover Cleveland following the death of her father when she was a child of eleven. When Frances was a student a Wells College, Cleveland's paternal interest changed into an apparently romantic one. Soon after her college graduation, a formal engagement was announced to the delight of the country. The marriage was a great success. Frances enjoyed huge popularity and was known as a gracious hostess. It was reported that on one occasion, 9,000 people lined up to meet her and shake her hand. Cleveland lost his bid for re-election in 1888. But the Clevelands returned to the White House in 1893, just as Frances had predicted on the day the left the Mansion in 1889. In 1897, at the conclusion of the second term, the Clevelands retired to Princeton, New Jersey where the former President died in 1908. Frances died in 1947 at the age of 83. She is remembered as the young bride who tamed a gruff bachelor President.