1995 Nigerian President Charged with Treason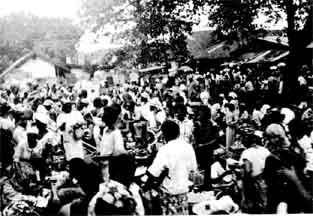 A
Moshood Abiola likely won Nigeria's 1993 presidential election, but General Ibrahim Babangida annulled the results. Abiola's self-declaration as president led to his arrest. The regime's human rights abuses were highlighted by the 1995 execution of Ken Saro-Wiwa and eight other activists.
---
Moshood Abiola, a prominent businessman, is widely believed to have secured victory in Nigeria's June 1993 presidential election. However, General Ibrahim Babangida, who had been in power for eight years, nullified the election results—likely because they did not favor his regime—before they were officially announced. On the first anniversary of the election, Abiola proclaimed himself the president. Tragically, two years later, his wife Kudirat and her driver were assassinated in Lagos. Soon after, Abiola was arrested on charges of treason.
This arrest further tarnished the government's image, solidifying its reputation as a suppressor of human rights. This perception had been established not only by the 1993 election debacle but also by the 1995 execution of nine Ogoni activists, including the prominent Ken Saro-Wiwa. Saro-Wiwa's organization, The Movement for the Survival of the Ogoni People, accused the alliance between the Royal Dutch Shell Group and the Nigerian government of neglecting the well-being of local residents, particularly in Ogoniland, Nigeria's most oil-rich region. These residents often suffered from the detrimental and occasionally lethal consequences of oil extraction. After enduring prolonged governmental harassment, Saro-Wiwa, along with the eight other activists, was arrested under the pretense of having murdered four pro-government Ogoni tribal leaders. In November 1995, following a grossly unjust trial, the nine men were executed.