Nigerian President Charged with Treason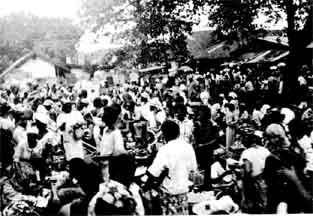 Moshood Abiola, a multi-millionaire businessman, was widely believed to have won the presidential election in Nigeria in June of 1993. General Ibrahim Babangida, who had ruled Nigeria for eight years, annulled the election results, which were unfavorable to his regime, before they could be released. On the one-year anniversary of the election, Mr. Abiola declared himself president. Two years later, his wife, Kudirat, and her driver were assassinated in Lagos. Shortly afterwards, Abiola was arrested and held on charges of treason.
The arrest further contributed to the government's reputation as an oppressive violator of human rights, a reputation which was earned both by the 1993 election scandal and the 1995 execution of nine Ogoni activists, including Ken Saro-Wiwa. Saro-Wiwa's organization, The Movement for the Survival of the Ogoni People, accused the Royal Dutch Shell Group -Nigerian government alliance of taking few, if any precautions to protect the local people from the harmful and sometimes fatal side-effects of pumping oil from the Ogoniland, the most oil-rich section of Nigeria. After years of government harassment, Saro-Wiwa and the eight other activists were arrested for the murder of four pro-government Ogoni tribal chiefs. The nine men were executed in November of 1995, after a mockery of a trial.