Blacks and the Revolutionary War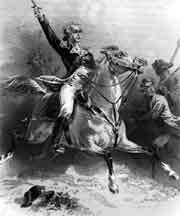 From the start of the Revolutionary War, African American participated. General Washington had at first welcomed their participation, but for a short time stopped new enlistment, only to finally authorize further participation.
---
African Americans participated fully in the War of Independence. Two Blacks, Peter Salme and Salem Poor, were commended for their bravery at Bunker Hill. On July 9th, 1776, General George Washington announced there would be no further enlistment of Blacks in the army. On October 23rd, Congress supported Washington's action. On November 7th, the deposed British governor of Virginia issued a proclamation promising freedom to any slave who signed up on the Royal side. Many took up the British offer. It had the effect, however, of strengthening the southern colonies' dedication to the revolutionary cause. On December 31st, Washington reversed his earlier decision and authorized the enlistment of Blacks. As a result, 5,000 Blacks participated in the war on the American side.