Stokely Carmichael
1941-
Civil Right Leader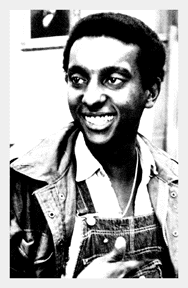 Born in Port-of-Spain, Trinidad, Stokely Carmichael studied at Howard University. As a student, he joined the activities of young members of the Congress of Racial Equality (CORE) in their direct action protests at lunch counters and other public facilities. After his graduation in 1964, he worked with the Student Nonviolent Coordinating Committee (SNCC) on voter registration in Lowndes County, Mississippi. The Lowndes County Freedom Organization, a forerunner of the Black Panther Party, arose from these activities as a political group separate and unaffiliated with the Democratic and Republican parties.
In 1966, Carmichael, a charismatic leader, was elected national chairman of SNCC. When he roused a crowd at James Meredith's 1966 Freedom March using the slogan "black power," he helped usher in the Black Power Movement. In 1973, Carmichael and his wife, South African singer Miriam Makeba, became citizens of Uganda.

Bibliography:

Cwiklik, Robert. Stokely Carmichael and Black Power. Brookfield, Conn. : Millbrook Press, c1993.

Johnson, Jacqueline. with an introduction by Andrew Young. Stokely Carmichael: The Story of Black Power. Englewood Cliffs, NJ Silver Burdett Press, c1990.